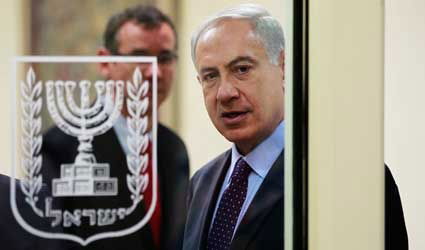 JERUSALEM (Reuters) – Israeli Prime Minister Benjamin Netanyahu has called the leaders of Britain and France to urge them not to ease sanctions on Iran over its nuclear programme, ahead of talks between Iran and world powers.
An Israeli official said on Saturday Netanyahu phoned British Prime Minister David Cameron and French President Francois Hollande to tell them sanctions were close to achieving their goal.
"Until Iran dismantles its military nuclear programme, sanctions must not be eased – on the contrary. Only the pressure brought Iran to this point, and only the continuation of pressure and its strengthening can bring them to dismantle their nuclear programme," Netanyahu was quoted as saying.
The Israeli leader met U.S. President Barack Obama last week in Washington and made a speech at the U.N. General Assembly in which he said Israel was ready to stand alone to deny Iran nuclear weapons.
Iranian President Hassan Rouhani says his country's nuclear programme is for peaceful civilian purposes and since his June election victory has been trying to ease friction with the West in an attempt to win relief from international sanctions.
Western diplomats have played down any suggestion Iran's new openness will result in an immediate loosening of sanctions.
But they are also hoping that talks on October 15-16 between six world powers – including Britain and France – and Iran will deliver an opportunity to make progress on ending the decade-long dispute.
Israel is widely believed to have the Middle East's only nuclear arsenal.