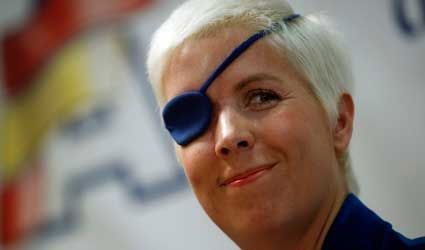 SUZUKA, Japan (Reuters) – Formula One drivers will hold a minute's silence at the Japanese Grand Prix on Sunday and dedicate the winner's podium to the late Marussia test driver Maria De Villota, they said on Saturday.
A statement from the Grand Prix Drivers' Association (GPDA), which represents most but not all of those on the starting grid, said the silence would be held before the drivers' parade.
De Villota, who lost her right eye and fractured her skull in a freak accident during a straight line aerodynamic test in England in July 2012, was found dead in a hotel in her native Spain on Friday.
Her sister said the family had been told the 33-year-old, whose father Emilio was once a Formula One driver, had died in her sleep as a result of neurological injuries she suffered in the crash.
The GPDA said all its members had been saddened by the news and extended condolences to the family.
"Her positive attitude, maturity and extreme commitment will never be forgotten and are something we have learned from," the statement said. "Maria will be missed and always remembered by all of us."
Japanese fans displayed a banner, in the colors of the Spanish flag, at the entrance to the Suzuka circuit with "Maria De Villota. Rest in Peace' written on it.