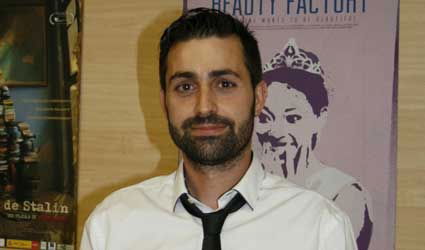 SPANISH actor Jordi Collado told us about the creative process behind El Efecto K (The K Effect), directed by Valenti Figueres.
The film follows the life of Maxime Stransky, a double agent working for Joseph Stalin involved in several historical events including the Wall Street crash of 1929 and the Second World War.
"Valenti carried out a thorough research to reflect these moments with historical accuracy," Collado said.
Using 60 per cent of original footage and 40 per cent of archive footage, The K Effect theorizes about a film editing effect known as the Kuleschov Effect and how it can be used to manipulate the audience.
"It's all about image contamination. A fictitious past is built as the story goes on," Collado discussed.
Selected in 52 film festivals and winner of 20 international awards, The K Effect also aims at tracing a history of cinema.
"The film goes from black and white to smooth pastel tones typical of the first Hollywood films in colour," Collado said.
"But it was more of a need than an artistic choice," he added.
The Castellon-born actor found difficulties while shooting certain scenes.
"Valenti is a meticulous director and planned the scenes to the point where everything was measured to the nearest millimetre. It was hard but satisfying," he claimed.
Classically trained in theatre, Collado was surprised the first time he saw the final product.
"I thought the storytelling was going to be more linear. Valenti did a great job and as my character says in the film 'the past is unpredictable'."