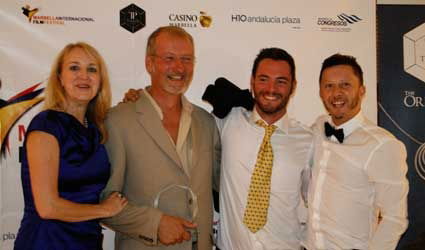 THE Marbella International Film Festival has been held over five days and brought to Marbella a selection of some of the best short and feature films and documentaries.
With two screens showing the films throughout the day at the Marbella Trade Fair and Congress Centre (Palacio de Congresos), it has been the ideal chance for film lovers to discover some of the world's upcoming talent.
Other events were held at the H10 Andalucia Plaza Hotel, Marbella Casino and other locations throughout the city and further afield, as many delegates took a trip to Coin to the Loasur studios.
Locals and visitors have had the chance to see films the USA, UK, Russia, Austria, Italy, Spain, Germany, France, UAE, Hungary, Australia and Albania.
The festival, which was first launched in 2006, is the flagship project of New World Trust, an organisation created to provide support for talented artists, including assistance in marketing, project and financial management, business angles, agents and distribution networking, and trying to overcome any other obstacles which potentially hinder the artist's ability to create. This is why Euro Weekly News has been proud to sponsor the event and act as Official Media Partners.
One of the most important and awaited elements of the festival was the annual 24 Hour Film Challenge. In this event, talented film makers, create some outstanding work, all scripted, shot, edited, and submitted for screening in only 24 hours.
This year, the Festival aimed to increase participation by offering the challenge on-line, as well as on-location, allowing film makers from all over the world to make movies and show off their talent. 
Euro Weekly News had the chance to talk to some of the filmmakers and actors over the five days of the festival, including Jordi Collado, lead actor of The K Effect; Adolfo Martinez, director of Pain Staking; Sam Reynard, director of A Change of Faith; Sue Du Feu, director of Togo; Randi Silverman, executive producer of Illness; Winston Abalos, director of Alchemy; Stephanie Failloux, director of Social Business: A New Path for Capitalism?; Justin Hunt, director of The Speed of Orange; Nicola Wright and Kim Driver, actresses in No Smoke, and Ben Richards, Producer of the All Dayer. There was an amazing variety of different types of films and documentaries showcased at the festival, which was rounded off on Sunday by the Awards Ceremony Gala when the winners were announced.
Sue Du Feu talked to us about her film, Togo, set in the Channel Islands during the Second World War. It is a film about the decisions which have to be made in wartime, and a look at the life of an ordinary family during the German occupation. Sue told us that it is the story of her family, which makes it even more special that her brother, who has been a stage actor for 50 years, is performing in the film. Other professional actors who took part in the film did so for free. Sue herself was trained as an actor, but she put in on hold to have a 'proper' job to support her family. She has done a lot of screenwriting, but this is the first project she has been able to go ahead with and is just the beginning of a larger plan, which includes a feature film and a series. Therefore, she describes the short film, Togo, as a calling card. It was filmed in Jersey with the collaboration of the National Trust over two periods of two days each in May and October last year. This short film, which can be seen on YouTube, is about a family that despite being treated like cowards, decides that the best option is to flee Jersey during the war. However, things don't go quite according to plan and they have to face the consequences of a heartbreaking decision.
Stephanie Failloux told us about her documentary Social Business: A New Path for Capitalism? This documentary deals with the concept of Social Business, which is a model of business which aims to be profitable as well as having a social impact. The film is aimed at the younger generations who have big questions about how the financial crisis came about and want to do something to change it.
Stephanie was born and raised in Tahiti and lives in Paris. She has worked in the financial sector for over 15 years in London and Paris, at the investment banks Paribas and Lehman Brothers, and since 2006, as an independent financial advisor.
Despite having no experience, wanted to make a film to illustrate the importance of Social Businesses. She says she was lucky to cross paths with Nicolas Jouvin, an experienced award winning director in documentary filmmaking, who agreed to accompany her on the project.
The movie provides both a practical illustration and an analytical overview of Social Business where both sides are intertwined and echo each other. On the practical side, they focused on a handicraft social business in Cambodia near Angkor Wat, Cambolac, founded by a French ex-trader following his realization that Angkor remained one the poorest regions in Cambodia despite being one of the most visited places in the world.  On the analytical side, they interviewed numerous experts and practioners in Europe, the US and Cambodia, not only in the field of Social Enterprise, but also in NGOs, Finance, Environment and Education.
After working in finance for over 15 years, and from knowing the system inside out, Stephanie wanted to highlight the bridges between philanthropy and finance/business, and therefore reconcile – via social enterprise – two worlds traditionally seen as antagonistic.  She produced this film independently of any broadcasters and organizations, with the sense of urgency that our current system and lifestyles are unsustainable and that we need to find new ways of living and interacting with each other and the planet. She explained that any business can be a social business, as long as it has the interests of the staff, clients and environment at heart.
The documentary has already been selected for several film festivals throughout the world and has met with a warm reception. It is also very popular with schools and university. It was made between September and December last year. It has been selected for several film festivals.
Actresses Nicola Wright and Kim Driver, who play the main character, Polly, and her best friend, Jane, respectively, in the film No Smoke, written, directed and produced by Sue Shearing, spoke to us about the film. This is a 90 per cent true story which aims to make a statement about corruption within the police force. In the UK, if you have £1,000 or more in cash and you can't prove where it came from, the police can keep it and don't even need to charge you, just make the assumption that it is the proceeds of a crime.
The main character is found with money which she had been saving for a lifetime in order to buy a place in Spain, after reporting her suspicions that an Asian film crew in a shopping mall are terrorists, it is confiscated by the police and part of it is pocketed. The unremarkable 'woman next door' finds herself on the wrong side of the law when events seem to conspire against her. Much of the filming was done in the locations where the events really happened in Hertfordshire, and took place over 13 days.
Sue Shearing is a retired journalist who, with a background in theatre, aimed to make films despite being over 65 when she started. Knowing of this story personally she was convinced it was the best choice for a feature length film. No Smoke was made on a shoestring thanks to the generosity of them and has been screened for the first time in Marbella. A huge effort has gone into promoting the film and it is hoped that it will be able to be taken to a commercial level. Sue says she has learned a lot from making it and especially enjoyed being part of a creative team.
Nicola trained at the Italia Conti Stage School and has been acting for more than 30 years, with credits including Silent Witness and Peter's Friend.
Kim trained at Hertfordshire Theatre School and Mountview in London and has mainly performed on stage.
Winston A. Abalos, who is from Los Angeles, California, and has Mexican ancestors, told us Alchemy, which is based on his life story. It is made around the song 'All These Things That I've Done', by The Killers, and is a man's search for redemption for the things he has done over his 30 years of life, and focuses especially on the guilt he feels for the death of his father following a fight when he was just 15.
It has met with great success in other festivals, winning several awards, and can be seen as a story which applies to anyone, as we have all done things that we are not proud of.
Winston had been involved in other aspects of filmmaking for some time and wanted to try his hand at directing. He had a very clear idea of the story he wanted to tell and that he didn't want it to be dramatic. It was filmed with a team of people who were all equally passionate about their work, in 13 locations over four days. One of the things that Winston is happiest about with this project which he says he felt he "just had to make" is the fact that it brought together the devout Mormons, and the gay community, as the main character is gay. He has worked to co-produce the "unofficial official" video of  Christina Aguilera's Let There be Love, and is now working on his next short film, but in the meantime is keeping busy with a web series on YouTube called the Devil's Couriers.
Randi Silverman, executive producer of Illness, is a glimpse into the life of a family with a mentally ill son, aged 13. Randi has a son who is bipolar and was brought into the production initially when the producer, Jonathan Bucari, found she did a lot of campaigning to raise awareness about the illness. She was amazed to find how close the screenplay was to reality and simply helped to make it more realistic, and to show that despite occurrences which had led to unrest in the USA, not all mentally ill people commit violent crimes. Following some negative reports about the plans to make the film, they were no longer allowed to use the planned locations and the lead actor's mother pulled him out of the project. Randi stepped in, and not only arranged for the film to be made in her home and the school where she was on the committee, but also her youngest son was brought in as the lead actor, playing the part of the bipolar son, who is so similar to his own brother. Randi spoke to both of the boys, who were keen to raise awareness about bipolar disorder and the fact that sufferers are just normal people, and got fully involved in the film, having got on extremely well with the director and other actors. Her older son, who wants to be a filmmaker was allowed to be the second camera. All of the participants would love to see it made into a feature film, but for the moment are happy that it has been shown in more than a dozen festivals. Randi's young son has won the Best Actor in a Short award. A version of the film will be used in schools to raise awareness about mental illness and get the subject out in the open so that it no longer remains a taboo.
Sam Reynard, who says he is based between Marbella and Oxford, UK and wherever the dolly takes him, told us that the idea for his film came about through an interest in con artists, "the charm involved along with ballsy moves and humourous situations" and the desire to shoot something tackling religion. As it's a touchy subject for a lot of people, he refrained from doing anything until this idea came to him. The film was shot in Los Angeles, and was his final project at film school. It took one week of production and another few months in post-production.
The story is about two young con artists who find a market in selling real estate in Heaven to the elderly and religious. They have been in this business for a year, it's booming! However all good things must come to an end, and they find themselves involved in something even they didn't see coming.
The actors are from LA, and Sam found them on a casting website. He says he was very happy with their performances. He took the opportunity to thank Eric Rubin, Robert Buhrow and Andrew Stroud who have since found further success.
Sam has always been interested in movie-making, and has been making short films since 13 years old. He went to Sotogrande International School and graduated the I.B program in 2008. He then travelled for a year making a documentary of his trip, then headed to a film school in LA for 4 years, during which he made many shorts and even a feature. He says he was "lucky enough" to sail the Atlantic while shooting a documentary as well. All the experiences have made him grow and mature as a person, as well as a filmmaker. For now, he is living in Marbella and supporting himself through his video production company, Reynard Productions, and working throughout Europe and further afield when working for larger corporate companies.
He defines himself as hardworking with a strong direction of where he is going. He is adventurous with his films and likes to dance around black comedy. He enjoys taking risks and has been known to be somewhat of an 'Adrenalin Junky'.
The film was first screened at Marbella International Film Festival, and he says that being recognised in his home town was perfect in timing and a humbling experience. For his next film, he hopes to save a much larger percentage of the budget for all the promotion required for many more International Film Festivals.
He is currently working on a new movie, a tragic love story, which hopefully will be ready for the film circuit next year. He hopes to collaborate with fellow film makers he met at Marbella Film Festival and plans to shoot in Marbella and Ronda to take full advantage of the coast and its beautiful scenery.
Adolfo Martinez, born in the USA, brought up in Spain, and now living in Los Angeles, told us that the idea for his film, Pain Staking, came about when he had skin cancer. While he was awaiting the results of a biopsy, he decided to write a dark comedy to exorcise his own fears. He found that when he told people, some would tell him that it was nothing to worry about, while others told him their case was much worse. In the first case, he would think, "thanks but how do you know?" and in the other, it seemed to him like it was a competition. He realised that despite their best intentions, it wasn't what he wanted to hear, and decided to take the situation to the extreme, with a character who always gave the wrong answer. He also finds it ironic that in the US, no-one will give you a painless death even if you are in agony, and if someone helps you, they can be charged with murder and given the lethal injection you were denied.
It really aims to show that everyone gets what they deserve.
It was filmed over a weekend in Los Angeles, in April 2012, and has he had no deadlines and put it together at home, he took as much time as he wanted.
The actors are Chris Warner and Christopher Neiman.
Adolfo has been working in Hollywood for many years, initially as a storyboard illustrator, and then going into second unit director, including the latest Terminator film, which he says is a way of getting closer to his goal of directing his own projects. Pain Staking is an effort to show he can direct actors and to let his voice as a creator be heard.
He defines himself as a hypochondriac who is very Spanish in his view of the grotesque and very American in his view on show business. 
The film won Best Foreign Language Short at the Madrid International Film Festival, and has taken part in the Boston International Film Festival, was a runner-up in the Sacramento International Film Festival and Queens World Film Festival, won a Golden Reel at the Nevada Film Festival, was in the Official Selection of Cleveland International Film Festival, Charleston International Film Festival and the United Film Festival in Los Angeles, amongst others.
His plans for the future are to go ahead with the feature-length films he wants to direct. His projects, Adolfo says, aim to make people think about serious subjects without lecturing them, and make people laugh at things which are not funny, as the best way to deal with them. He has plans in both Spain and the US, although he says he would go wherever it takes to fulfill his dream. His next stop is London for the International Film Festival.