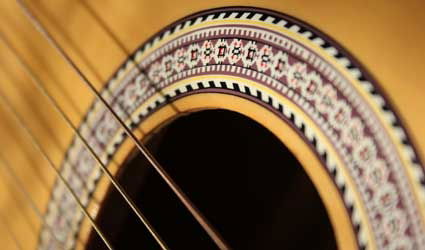 THE Guitar Museum in Almeria City which is scheduled to open before the end of the year has launched a photo contest through the City's Department of Culture.
The event is called 'Perspectives on the guitar' and will reward those images that reflect the heritage of the city with this universal instrument.
"We are aware that the opening of the museum has to be something participatory, and this initiative will help us achieve that," said Councillor for Culture, Ramon Fernandez-Pacheco, at a press conference held in the Plaza Vieja.
With the implementation of this project Almeria "will pay back part of it's historical debt to Antonio de Torres, the father of the modern classical guitar who was born in La Cañada. As our land is home not only to guitarists, but also to great photographers, professionals and amateurs are invited to take part", he added.
Although complete rules are available on the website of the department of Culture, each person may submit a total of three snapshots before November. 15. A jury of experts, headed by National Photography Prize Winner, Carlos Perez Siquier will determine which are the best.
The 15 best photos will form part of an exhibition to be installed in the auditorium of the museum and the winners will receive a diploma,as well as two prizes of €350 and €150 for first and second.
According to Ramon Fernandez-Pacheco, the origins of Antonio de Torres in Almeria should be a source of pride for the citizens. "Our mission is to help publicise this fact through actions like this. Not in vain do we talk of the most played, popular and universal instrument of all time '.