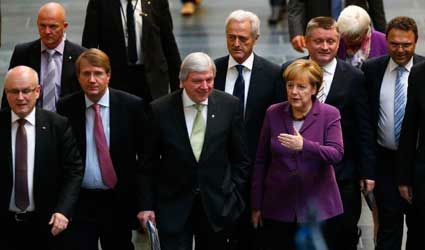 BERLIN (Reuters) – German Chancellor Angela Merkel's victorious conservatives and the Greens party agreed on Thursday to hold further talks on forming a first-ever federal government between the long-time adversaries, party officials said.
Merkel's Christian Democrats (CDU) and their Bavarian sister party, the Christian Social Union (CSU), emerged as the dominant force in the September 22 election but need a coalition partner. Full negotiations for a government could take up to two months.
The chances the CDU/CSU and Greens would move onto more formal coalition talks are not seen as high due to animosities between the arch-conservative CSU and the Greens, a left-leaning party with roots in the 1970s peace and anti-nuclear movements.
But some CDU and Greens leaders see a historic chance for both parties to explore new power options. The CDU/CSU's veteran partner, the Free Democrats (FDP), crashed out of parliament last month and the Greens' preferred ally, the Social Democrats, were beaten by the CDU/CSU for the third straight time.
The CDU/CSU first held exploratory talks with the SPD, who are still considered their most likely partner, and they will meet SPD leaders again on Monday. Further talks next week with the Greens will give Merkel more leverage with the SPD.
"It makes sense to meet again on Tuesday," Hermann Groehe, the general secretary of the CDU, said after the conservatives fell just short of an absolute majority in last month's elections with 311 of the 631 seats in the Bundestag.
"It was a good, open and constructive meeting."
The party leaders met for about three hours on Thursday. In 2005, the CDU/CSU and Greens held just one perfunctory 90-minute exploratory meeting that led nowhere. The CDU/CSU and SPD later formed a "grand coalition".
"It was a positive atmosphere, the mood was friendly and the talks were conducted with the necessary seriousness," said Greens co-chairman Cem Oezdemir, whose party won 63 seats on September 22. The SPD won 193 seats and the radical Left 64.