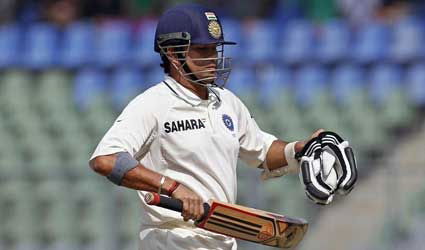 MUMBAI (Reuters) – "God Bye" screamed the front page of India's largest selling newspaper on Friday reflecting the depressive mood of the cricket-crazy country after its favourite son, Sachin Tendulkar, announced his retirement from all forms of cricket.
The Times of India dedicated four more pages to the world's most prolific international run-scorer, who announced on Thursday that he will retire after playing his 200th test match at home against West Indies next month.
The diminutive batsman, now 40, has been the face of Indian cricket since he burst onto the international scene as a 16-year-old curly-haired boy against arch-rivals Pakistan in a Karachi test.
And after 24 years, more than 34,000 international runs and a century of international hundreds, the news of Tendulkar's parting made the top story on the front page of every publication in the country.
"The Void" was what the Indian Express used on top of a picture of Tendulkar walking out to bat with his willow tucked under his left arm as the winter sun peeked from behind his helmet.
The Hindustan Times newspaper said as much in their banner headline "There will never be another you".
Former Australia captain Steve Waugh said: "He was the Don Bradman of our times" in a 2009 column for Times of India, which was republished on Thursday.
"Sachin was always a favourite with Australian crowds and had the unreserved respect of Australian cricketers because he possesses many traits that we respect and value among sportsmen," Waugh wrote.
"He was fiercely competitive, never backed off from a contest, never gave up but was always fair."
Tendulkar's dominating batting display during his initial years has been often compared with the swagger and style of West Indian batting great Viv Richards.
Richards agreed.
"When in full flow, the mild-mannered boyish cricketer could look extremely intimidating in the middle," Richards also wrote in a 2009 column for the publication.
"If there was a resonance I found of myself in his batting, it is the intent that he communicated."
India wicketkeeper Mahendra Singh Dhoni was elevated as the team's captain on Tendulkar's recommendation and later spent quite a bit of time chatting to the master batsman, who used to stand beside him at first slip.
Dhoni said he had too much respect for his cricketing idol and was overawed by Tendulkar's presence during his debut series in Bangladesh in 2004.
"I couldn't muster enough courage to speak to Tendulkar, so I would avoid eye contact with him," Dhoni wrote in a column published in the same newspaper.
Harbhajan Singh, who shared a dressing room at club and international level with Tendulkar, summed up the esteem held by Indian cricketers for the 'little master'.
"I can tell my kids I captained Sachin," said the off-spinner, who skippered the Mumbai Indians in the Indian Premier League.