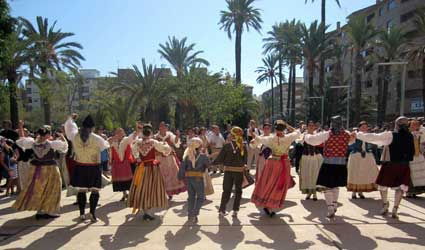 The Valencia Community had the day off yesterday, October 9.
This is Valencia Day, when cities, towns and villages celebrate the retaking of Valencia city from the Moors by Jaime I in 1238.
In Villajoyosa the day started with a civic procession through the town centre, with speeches, brass bands, and traditional dancing.
The Villajoyosa and Valencian Community flags were carried by Pablo Sbertoli and Nils Eric Egeberg. 
Sbertoli is director of Hacienda del Sol, a Norwegian residence for the disabled which opened in Villajoyosa 41 years ago.  
Nils Eric Egeberg is the man behind the Aula Gastronomica-Hostal El Mercat, another Norwegian-backed residence that opened in March.
The choice of nationality was deliberate, said councillor Xaro Escrig.  
"We want to thank the Norwegian community for its love of La Vila and choosing our town for their holidays or as a second residence." 
More than 6,000 Norwegians visit the two residences for the elderly as well as 2,000 tourists each year. 
There are 200 Norwegians registered with the town hall, although depending on the time of the year, this is closer to 600.