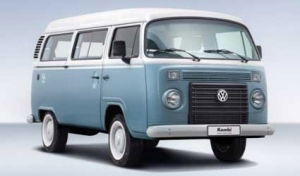 AFTER more than six decades, Kombi, the iconic hippie van from Volkswagen is saying goodbye to the markets.
The Volkswagen plant in Sao Bernardo do Campo in Brazil, the only one remaining in the world producing this model, officially the type 2, announced it will no longer do so from December this year.
A new Brazilian transport safety regulation has forced the production stoppage of Beetle-based model, still used by many in the South-American country.
But before giving the last farewell to the iconic van, Volkswagen will launch a special edition limited of 1,200 units.
The Last Edition Kombi will thus put an official end to a model that was first launched in Germany in 1950.
Closely related to the hippie movement, the Kombi van has also appeared in numerous films and TV shows.
Production of this model in Brazil started in 1957 and since then 1.5 million units have been sold in this country despite the model being out of production worldwide since 1979.