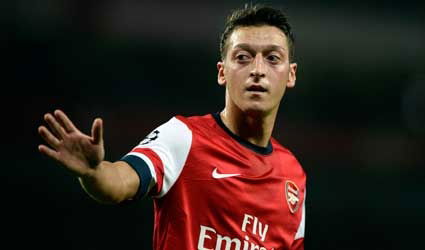 COLOGNE, Germany (Reuters) – Arsenal's record signing Mesut Ozil shrugged off criticism from his former club Real Madrid on Thursday and said he was happy in London and ready to taste success under coach Arsene Wenger.
The 24-year-old scored 19 goals in 104 La Liga games over three seasons at Real before joining the north London club in September for 42.5 million pounds ($67.71 million).
"I had three great years in Madrid and that is all I will say," Ozil told reporters in Cologne ahead of Germany's World Cup qualifier against Ireland on Friday.
"If you look at my statistics (in Madrid) and how many games I played there then you can see how professional I was," he said, when asked specifically about comments from Real bosses in recent weeks questioning his commitment.
He has quickly established himself as a fan favourite in London since making a sparkling debut against Sunderland and also helped his new club to a winning start in the Champions League.
"I feel great in London, the coach gives me the trust, the team is fully behind me and I feel very very well there," said the midfielder, who will win his 50th cap for Germany if he plays on Friday.
Germany need just two points from their last two 2014 World Cup qualifiers against Ireland and then Sweden on October 15, to qualify for the tournament finals in Brazil.
"I can only say that he (Wenger) is a great coach who knows exactly what he wants and has a clear vision. We need a coach like that if we want to be successful," Ozil said.
His sudden departure from Madrid following the arrival of coach Carlo Ancelotti left many fans and team mates bewildered but Arsenal have benefited from the German's talents to go top of the Premier League table.
"Losing a player like Mesut is damaging to any team," Germany's Sami Khedira, who was sitting next to his former Real team mate, told reporters.
"But I am an employee of Real and as such I am, like all the players, responsible for the success of the club. He seems happy now in London and that is what is the most important thing."