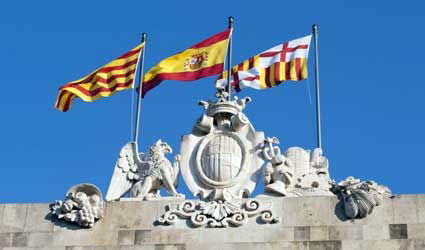 APART from the PP and the PSC (Cataluña's PSOE) all Catalan political parties voted to ask the central government for an independence referendum.
The Cataluña Generalitat has three months to complete the task.  If Madrid baulks, there will be a referendum anyway.
Should this happen, Mariano Rajoy would appeal to the Tribunal Constitucional and the vote would be halted.
This could be what an increasingly isolated Mas wants. He would be able to turn to voters and say he had done his best and receive some breathing space until the 2016 elections. 
An unofficial plebiscite instead of a referendum will then give voice to voters' feelings, not the politicians', which do not necessarily coincide.
BIASED
FRANCISCO PEREZ DE LOS COBOS is president of Spain's highest court of law, the Constitutional Tribunal (TC).
He was also a paid-up, card-carrying member of the PP from 2008 to 2011although Spanish judges are banned from political affiliation.
The argument goes that this does not apply to TC judges and Perez de los Cobos was not an acting judge while he was paying PP dues. Lastly, the impartiality ruling requires judges to resist political intervention by the government of the day, not their own leanings.
The unchecked partiality of 52-year-old Lieutenant Colonel Miguel Ayuso is more worrying than Perez de los Cobos's. 
Ayuso is a 52-year-old military judge who is also a Carlist and believes Sixto de Borbon is Spain's legitimate king.  He regards the 1936-1939 Civil War as "a true crusade" and wrote of the 1978 Constitution that "we are in the presence of a pseudo-constitution without principles, in function of its bastard and spurious origin."
Ayuso – up for promotion, incidentally – is now under investigation by the Ministry of Defence, but only following media interest.
When it comes to bias, Perez de los Cobos is a paragon of impartiality in comparison.
NEGATIVE
MARIANO RAJOY has not given an interview for months, but Bloomberg TV in New York looked good on paper.
Presumably he felt safe, expecting to explain his economic strategies. Instead his interviewer dragged up the PP's ex-treasurer Luis Barcenas and slush fund claims. 
Rajoy could hardly reply, as he habitually does, that he has said all there is to say about Barcenas, thank you.
The tenacious interviewer pressed him as no-one presses him here but got little in return as Rajoy launched into inscrutable Gallego mode, answering everything except the question asked. You can't prove what's not true, he protested.Unfortunately for Rajoy, sceptical interviewers and weary voters are less prepared to swallow double negatives.