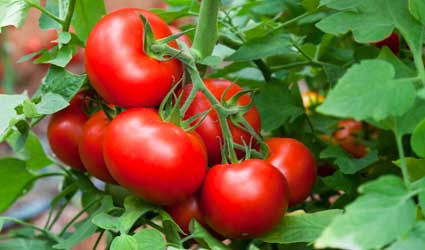 WITH a shortage of biologically or organically grown vegetables available in most Spanish hypermarkets, local stores, local markets and at farm gates compared to the UK, Holland and Germany, it's very worthwhile to grow your own.You don't need much space and no previous experience is required.
Although we used to  have a large vegetable plot growing some 50 varieties of vegetables a year and harvesting for not only ourselves but neighbours and a Michelin starred restaurant, we now grow on a smaller a scale to match our ages and daily needs, and at the same time experiment with novel small growing methods.
We do this for five reasons.
Firstly sprouting seeds such as mung beans, alfalfa, fenugreek, radish, lentils, chick peas and sunflowers are best grown on a small scale and eaten fresh so we normally have our automatic watering sprouter continuously in operation in a corner of the kitchen.
Secondly we enjoy wild mushrooms, setas in Spanish, but being unsure of what can be collected and eaten from the wooded mountainsides in inland valleys we grow our own. Many garden centres and agricultural cooperatives now sell specially prepared sacks impregnated with the appropriate spores. All we have to do is put the small sacks in the garage, tear six to eight holes in the plastic cover, and kilos of setas appear within a few weeks. Half to be eaten fresh and the others dried in a couple of hours in our small vegetable and herb dryer.
Thirdly, although we have many types of perennial herbs in the garden for cooking and infusions, it's more convenient and easier to grow annual herbs in pots in the semi shade of the naya close to the kitchen door. And if you grow your own an amazing number of perhaps unknown varieties can be grown way beyond what are for sale in garden centres and supermarkets.
For instance basil comes in dozens of varieties. Some large leaved, others small. Some mild some with a spicy kick. The leaves can add real interest to summer and autumn salads. Unfortunately, local displays of seeds rarely include the unusual varieties so we suggest you obtain the 2012 or 2013catalogue from Chilterns Seeds catalogue [email protected]. You will find seeds for 23 varieties of this one herb and many other enticing seeds. How about caraway, coriander (slow bolting), cumin and lemon mint for starters?
Fourthly we have fun discovering what can be grown successfully in the large plastic pots in which large trees are delivered from garden centres. As well as in window boxes, large paint containers, a growing table, small raised beds and an old bath.
Yes if you see an old bath around or remove one when doing up an old finca, it makes a very convenient raised bed that can be hidden behind a tall shrub or orange tree. Ours is painted green to make is less conspicuous! We first used it to grow some rice. Two and a half kilos were harvested from its golden heads at the end of summer. Part was used as wild rice and the other de-husked in a miniature mill at a rice museum to prepare a paella. The next crops were carrots surrounded by onions to ward off the carrot fly and we have just harvested a plump lettuce for a breakfast salad from its current crops.
But if you don't like the idea of the bath small raised beds, even if only one or two square metres, can produce an amazing amount of fresh healthy autumn, over wintered and summer vegetables in any garden and along a sunny wall of a small town house patio.
Fifthly it gives us some fun as well as serious things to write about in this column. Serious because;
all too many mass produced vegetables are forced with a combination of plastic greenhouses, over watering and feeding and constant spraying with questionable chemicals if not grown biologically or organically,
some, such as tomatoes and red peppers, are picked before they are ripe and others harvested beyond their best,
many are pre packed in numbers and weights too large for a small household,
washed mixed salad leaves are packed in bags and treated to prolong their shelf life beyond what is natural,
an increasing number of the vegetables sold in Spain are imported, although vast quantities of organic vegetables are grown for export to northern European countries.
To get you off to a fast start it is best to purchase plantlets. Watch out for them over the next month or so in local markets, garden centres and agricultural cooperatives.
Naturally there are some essential success factors.
Vegetables need some sun, a good rich compost mix or soil and regular watering. But keep the compost/soil just damp. If you purchase a bag of worm compost or fibrous animal manure based organic fertiliser and mix this into a good potting compost with a little sharp sand this should provide you with a good growing medium for containers and pots.
Don't be tempted to purchase a garden shed full of fertilisers for it is preferable when growing your own vegetables to grow them at a natural unforced rate. The aim of growing your own is to be able to harvest and enjoy really fresh sun ripened high in vitamin tasty, unsprayed, well textured vegetables when at their best. 
Ignore the comments of others who boast about enormous onions, garlic, lettuces, courgettes and tomatoes. Recognise that they are probably growing to sell as well as for a large family.
They may well be watering and feeding three times as much as you do for size and weight is money in their pocket. Money in your pocket is being economical with the use of water, purchased fertilisers and insecticides and producing smaller vegetables packed with vitamins minerals and fibres.
Another advantage of growing naturally and not forcing is that fast grown fleshy/sappy leaves and fruit are more susceptible to pests and diseases and therefore need spraying with insecticides, pesticides and fungicides.
Even on a small scale aim for diversity to make the eating of vegetables on every day of the week interesting to all members of the family from one to 101 years of age.