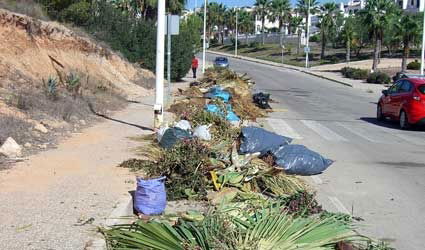 GARDEN waste overspill in Orihuela Costa is now "bursting at the seams."
That's according to political party C.L.A.R.O. which is questioning Orihuela City Hall's new "environmentalists dream solution to the problem of garden waste."
Instead of it being transported for disposal to Crevillente 50 kilometres away it should be collected and transported to San Pedro del Pinatar for it to be crushed and transformed into pellets for ecological energy production or fertiliser and sold.
However, C.L.A.R.O. visited the site in San Pedro. It is closed and garden waste has been accumulating for weeks without being processed, claimed the independent political party.
President of C.L.A.R.O., Bob Houliston said: "The consequence is that Orihuela Costa garden waste has to be transported once again to Crevillente, 50 costly kilometres away. But since the council is not willing to pay for the transport of all the garden waste created in Orihuela Costa much of it is allowed to accumulate in the streets for weeks."
Councillor for the Coast Martina Scheurer said waste had stopped being taken to San Pedro because the site refused to accept it as ordinary rubbish was mixed in with the gardenwaste.