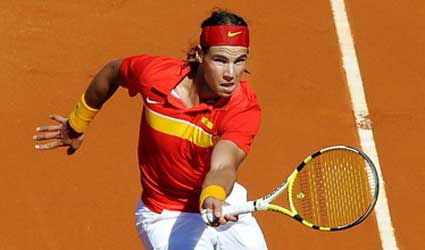 MADRID (Reuters) – Spain's chances of winning a sixth Davis Cup crown next year will likely hinge on world number one Rafa Nadal and new captain Carlos Moya said on Thursday he will do his best to persuade his Mallorcan compatriot and close friend to commit.
"My main mission will be to get everyone to lend a hand," Moya, who is taking over from Alex Corretja at the end of the year and is a former number one, said at his presentation in Madrid on Thursday.
"I know that history has shown the top 10 players tend to miss the opening rounds," he added.
"There's still time to talk (with Rafa). He's immersed in a fight for the top spot in the rankings now but later we'll talk and see what he has in mind."
Currently competing at the Masters event in Shanghai after taking over at the top of the rankings from Novak Djokovic on Monday, Nadal has welcomed Moya's appointment.
Once he takes the reins, the 37-year-old Moya, who retired from professional tennis at the end of 2010, will begin preparing Spain for their opening World Group tie at home to Germany at the end of January.
Corretja succeeded Albert Costa, now RFET sporting director, as Davis Cup captain after Spain's triumph against Argentina in the 2011 final.
They were runners-up to Czech Republic last year before a depleted team without the injured Nadal, who was also absent from the 2012 final, suffered a surprise defeat away to Canada in the 2013 first round.
Despite his hectic schedule, Nadal returned from winning the U.S. Open in New York to help Spain retain their elite World Group status in a 5-0 playoff success against Ukraine in Madrid last month.
Corretja said after the victory he wanted to continue but the federation decided a fresh start was needed.
"Our main challenge is to win the sixth title and any decision we take is based on that," RFET president Jose Luis Escanuela told reporters on Thursday.
"And we believe that in the hands of Carlos Moya we can achieve it," he added.