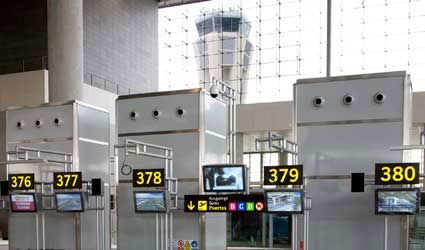 The British and Irish markets keep Malaga-Costa Airport as one of the busiest in Spain.
If it wasn't for tourists and airlines from those countries, Malaga-Costa del Sol would not be amongst the four busiest airports in the country.
Of the 50 top connections from the airport, almost 20 are to Britain or Ireland, and fewer than 10 are Spanish.
Malaga is also one of the three European cities with most direct flights to London airports which are the most popular for both incoming and outgoing passengers.
In the first six months of this year 8 per cent of the total number of passengers who used Malaga-Costa del Sol Airport (pictured) were coming from or going to Gatwick.
Stansted and Luton are also amongst the top 15 destinations and Southend amongst the 50 most popular, according to airport authority Aena.
There are also flights from Malaga to cities including Manchester, Dublin, Nottingham, Bristol, Birmingham, Leeds, Liverpool, Newcastle, Glasgow, Edinburgh, Cork and Belfast, and more destinations are still being added.
The number of passengers on international flights connecting with Malaga increased in September by 2.8 per cent from the previous month, to 1.41 million people. By the end of the year, more than 13 million people are expected to have used the airport in 2013.