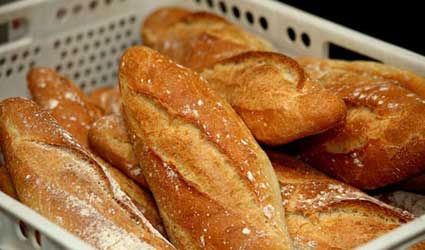 Jose Navarro's bakeries began producing cut-price bread in Torrente, Quart de Poblet and Gandia (Valencia) last September. He met bitter opposition from fellow bakers who accused him of illegally selling the bread below cost price.
He in turn accused them of hounding him, as he received weekly visits from labour and tax inspectors.  They examined everything from work contracts to the flour used for the bread but business boomed regardless.
The Alcoy shop serves 1,000 customers a day, according to spokesman Jose Perales.
"It's cheaper to bake traditional bread than freeze it. The secret is organisation," he said. "The shops open from 6am until 9pm and we make bread all day."
Raw materials for each "barra" cost only 7 cents, he revealed.