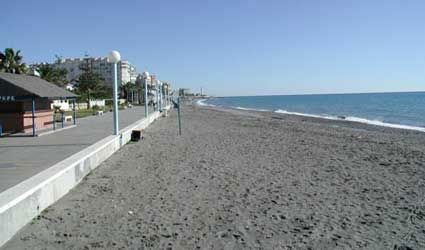 WORK to restore a damaged beach in Torrox Costa is to begin soon.
The 2014 General State Budget includes €300,000 to build a breakwater on Ferrara beach, damaged by storms and rains in recent years.
This item is part of a plan to improve the beaches from Malaga, with a total investment of €2.5 million.
The Environment ministry, through the Coastal Demarcation department, will start the procedure that would allow the building of the 120 metres long eight metres wide breakwater.
This will be possible thanks to an agreement reached by the Coastal Demarcation department, the Malaga provincial government and Torrox council.
The latter two public bodies will contribute €200,000 of the €500,000 investment necessary for the project.
Meanwhile, the Axarquia Community of Municipalities has been chosen as the coordinating entity of the project.
Its president, Oscar Medina, stated the breakwater, together with the new water disposal plant soon to be built in Nerja will "strengthen the tourism offer of the Axarquia."