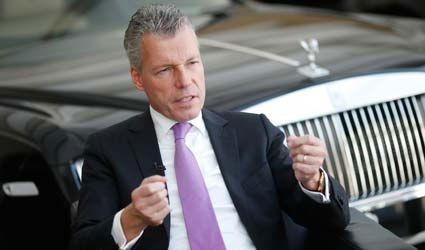 SINGAPORE (Reuters) – Phantoms, Ghosts and now Wraiths are stalking the streets of Asia and Torsten Mueller-Oetvoes, the chief executive of Rolls-Royce Motor Cars, could not be more pleased.
The top-end car maker, a unit of Germany's BMW AG <BMWG.DE>, still sees untapped potential in China – its No. 2 market after the United States – but hot spots in Asia include Japan, the Philippines, Thailand and Vietnam, Mueller-Oetvoes said.
Rolls-Royce is opening its first showroom in Manila "because we see quite good potential in this market, particularly when you look at the projections of ultra-high net worth individuals" in the Philippines, he told Reuters in Singapore.
"Japan is flying currently, very much due to Abenomics," he said. "We have seen many customers coming back into showrooms and coming back to us and asking for a new car."
High luxury is the hallmark. Except for the chassis, every Rolls-Royce is built by hand at the Goodwood plant in the scenic Sussex Downs region of southeast England.
Interiors of polished wood, fine leather and plush carpeting are standard, along with a Teflon-coated umbrella that pops out of the door frame. Bespoke versions are available, at a price.
"No request is considered too extravagant or unreasonable," a brochure says. "On one occasion, we even furnished an interior with veneer from a tree felled on the customer's estate."
Mueller-Oetvoes, a BMW marketing executive who became the boss of Rolls-Royce in 2010, was "cautiously optimistic" about this year, repeating forecasts that global sales will beat last year's record of 3,575 cars and top the 4,000 mark next year.
Part of that optimism is due to the Wraith, a two-door coupe version of the Ghost model introduced this year as the most powerful Rolls-Royce with its twin-turbo, 6.6-litre V12 engine. About 40 percent of orders for the Wraith, priced between the flagship Phantom and the "budget" Ghost, are coming from Asia.
"We are basically sold out until May next year," Mueller-Oetvoes said. "What is more pleasing is that we have seen lots of customers coming to us who never owned a Rolls-Royce before."
SPORTY WRAITH AND PERHAPS AN SUV
The new Wraith, described as "spectacular and improbable" by Car and Driver magazine, has a starting price of about 245,000 euros (206,855 pounds) in Europe but Asian buyers pay a premium.
The same car sells in Singapore for S$1,258,888 (£628,000) and in India for about 46 million rupees (£462,734), both prices reflecting high import duties on premium vehicles.
Rolls-Royce will not stray from the roots of the Phantom and Ghost but the Wraith caters to younger wealthy drivers who want a coupe-like car rather than a sedan, Mueller-Oetvoes said.
"I wouldn't call it a sports car but it is something which is more a dynamic type of Rolls-Royce," he said.
Sport-utility vehicles (SUVs) may also be in the picture as high-end brands Bentley and Lamborghini, both owned by Germany's Volkswagen AG <VOWG_p.DE>, get into that market.
Mueller-Oetvoes said he was convinced the SUV market would keep growing and there would be a luxury element.
Rolls-Royce has done initial drawings and is giving SUVs "careful consideration", he said, but there is no rush "because I would like to make 100 percent sure that if we enter this segment then we have really an immaculate, excellent solution".
Plenty of Ferraris, Lamborghinis, Maseratis and other super cars zoom along the streets in Singapore and elsewhere in Asia but Mueller-Oetvoes said "our competition is not other cars".
"We are rare, we are highly exclusive and we don't want to be seen at every single street corner," he said. "Our breed of customers, if they like both cars, they would buy both cars. It is a competition which is more may I go for art, may I go for jewellery or a precious watch or a chalet in the Swiss Alps."
So what does the boss of Rolls-Royce drive?
"In my home garage sits a Ghost but in the near future also a Wraith," Mueller-Oetvoes said. "I have a BMW as well sitting in there and an old Mini but this is it."