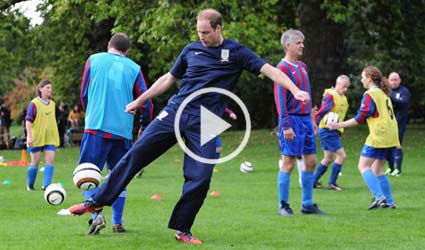 LONDON (Reuters) – A goal was celebrated with a bow and the halftime drinks were served on silver platters when two of England's oldest amateur teams played in Queen Elizabeth's back garden on Monday in the first match to be staged at Buckingham Palace.
The game between Polytechnic and Civil Service, part of the FA's 150th anniversary celebrations, had begun with a stern warning from Prince William that anyone breaking a window would have his grandmother to answer to.
Polytechnic ran out 2-1 winners in what was a competitive fixture in the Southern Amateur League's first division that had the rare honour of being officiated by 2010 World Cup final referee Howard Webb on lawns more accustomed to garden parties.
The first goal was scored by Bojan Jelovac, a part-time tennis coach and model who escaped war-torn Bosnia when he was six. He shunned traditional goal celebrations for a more regal approach.
"I kind of pre-planned my celebrations if I scored," the 28-year-old told reporters. "I worked out I was going to bow to the Prince if I scored but I couldn't see him, but I bowed anyway."
It was the first, and most likely last, match to be staged at the Palace since it was built more than 300 years ago and was the brainchild of Prince William, in his role as FA president.
The full-sized pitch was about the only conventional aspect of a match, watched by around 750 people, with Palace footmen serving refreshments in style at the break.
"We are very lucky to have the Duke of Cambridge as the president of the FA and one who could persuade his granny to let us use her back lawn. I think she agreed as long as none of the windows were broken," FA chairman Greg Dyke said.
"I don't think there will ever be another match here like this one, but who knows what might happen when we are 200 years old."
Civil Service were chosen to take part as, like the FA, they are also celebrating their 150th anniversary, and are the only surviving club of the 11 who founded the organisation in 1863.