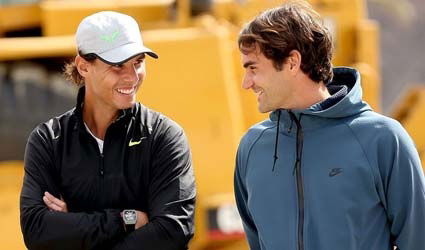 (Reuters) – World number one Rafa Nadal is confident that arch-rival Roger Federer will be able to accumulate the points needed over the next few weeks to seal his spot for the season-ending ATP finale in London.
Federer went through the 2013 season without reaching a major final for the first time since 2002, which has left him in danger of missing the cut for the World Tour Finals for the first time since 2001.
The 17-times grand slam winner is currently seventh in the ATP Race for next month's tournament involving the top eight players of the world.
"He's going to go, he's going to qualify. I am sure of that," Nadal, who replaced Novak Djokovic as the men's top-ranked player this week, told reporters in Shanghai.
The Swiss has won the season ender a record six times but if he is to have any chance of turning that into a lucky seven, he only has three more tournaments – this week's Shanghai Masters, the Swiss Indoors and the Paris Masters – to make up the points in the ATP Race.
He has been left in such a precarious position following a year in which he perished in the Australian Open semi-finals to Andy Murray, fell at the last-eight stage to Jo-Wilfried Tsonga in the French Open, suffered a shock second-round defeat at Wimbledon to journeyman Sergiy Stakhovsky before losing to Tommy Robredo in the U.S. Open fourth round.
Federer's compatriot Stanislas Wawrinka, Richard Gasquet and Milos Raonic are all breathing down his neck and could edge him in the race. Nadal, Djokovic, Murray and Spain's David Ferrer have already sealed spots.
His job has also been made more difficult as he is drawn to meet Djokovic in the Shanghai quarter-finals with only 105 points separating him and ninth-placed Frenchman Gasquet.
"He (Federer) is not going to have a problem. Even if he doesn't have lots of points of advantage, I feel he always played well in this last part of the season," Nadal said.
"He likes to play in these tournaments. He always had the positive results. I really feel that he will do it. He's a great player and I am sure he will be there and fighting for the title."
Nadal, who boosted his grand slam singles tally to 13 this year by winning the French and U.S. Opens, reclaimed the top ranking for the first time since July 2011.
The 27-year-old Spaniard was sidelined for seven months with a left-knee injury before his return in February and he has never looked back since.
"I thought that I would never have the chance to be back there," Nadal added. "Being No. 1 again is special. I was confident that when I was back I would have the chance to keep competing well, keep having chances to play for important tournaments, but I never thought about being back to No. 1.
"I am today. But that means that I am having probably one of the best seasons of my career. It's great."