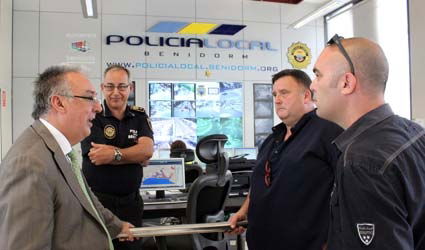 FOUR traffic cameras have been installed in Benidorm's Rincon de Loix and Levante areas.
Primarily destined to supervise traffic they will also serve as a crime deterrent with signs warning of their presence, announced mayor Agustin Navarro.
The cameras are located at three Calle Gerona intersections and another between Calles Lepanto and Mallorca.  All are in the so-called English Zone, with its high incidence of petty crime.
Navarro and representatives from the British community visited the Policia Local's control centre to see the system at work.
While agreeing that the cameras will contribute to public safety, British business-owners would rather see a greater police presence, they said.
Increased police patrols would discourage the criminals and pickpockets who rob and dupe British tourists, a spokesman for the British Benidorm association claimed. 
They proliferate around Mercaloix, where a new scam has been detected as phony collectors for charity target tourists from the UK
"Benidorm is one of the few resorts with large numbers British tourists in the winter.  The town hall needs more than cameras to guarantee their safety," British Benidorm said.