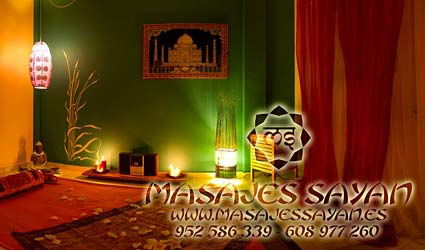 SAYAN is an exclusive massage centre in Fuengirola with a team of experienced masseuses who offer a variety of massages.
Inspired by the Orient, Sayan provides all the ingredients required to meet the need for relaxation, and physical and emotional harmony.
Its facilities are noted for their exquisite attention to detail beginning with the decor, soft music, subdued lighting, subtle scents and evocative incense, which all combine to take you into another world as soon as you enter Sayan.
The massages are truly unique and have many health benefits, both mentally and physically and even spiritually. Their sensual massages can invigorate the body as well as provide relaxing and stimulating pleasurable sensations.
All the massages are carried out in a professional, caring and open way, with great respect for every client. There are no taboos or prejudices ensuring that you will feel completely comfortable while experiencing the sensual massage experience.
Massages are for men and women individually or together for couples. The Kashmir Massage which comes from Northern India using the ancient Tantric massage especially designed to help provide relief from some conditions such as sexual dysfunction through a specialised all over body massage technique.
More information about Sayan and all that they offer can be found on their website, www.masajesayan.es and by calling 952 586 339 or mobile 608 977 260.