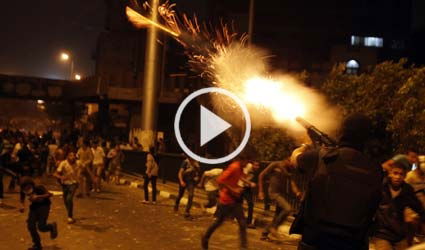 CAIRO (Reuters) – Suspected militants killed six Egyptian soldiers near the Suez Canal and fired a rocket-propelled grenade at a state satellite station in Cairo on Monday, suggesting an Islamist insurgency was picking up pace three months after an army takeover.
Dozens of supporters of deposed President Mohamed Mursi of the Muslim Brotherhood were killed on Sunday in clashes with his opponents and security forces.
The death toll from the violence across the country rose to 53, state media said, with 271 people wounded in one of the bloodiest days since the military deposed Islamist President Mohamed Mursi in July.
Further confrontations may shake Egypt this week, with Mursi's supporters calling protests for Tuesday and Friday.
They are likely to be angered by the publication of an interview with Egypt's army chief on Monday in which he said he told Mursi as long ago as February he had failed as president.
Thousands of Mursi supporters clashed with security forces and army supporters on Sunday on the anniversary of the 1973 war with Israel – meant to have been a day of national celebration. The countries signed a peace agreement in 1979.
Authorities had warned that anyone protesting against the army during the anniversary would be regarded as an agent of foreign powers, not an activist – a hardening of language that suggested authorities would take a tougher line.
Sinai-based militants have stepped up attacks on the security forces since the army takeover and assaults like that in Cairo's Maadi suburb fuel fears of an Islamist insurgency like one in the 1990s crushed by then President Hosni Mubarak.
Two people were wounded in the attack on the state-owned satellite station while medical sources said three were killed and 48 injured in a blast near a state security building in South Sinai. A witness said it was caused by a car bomb.
Security sources said gunmen opened fire on the soldiers in Ismailia while they were sitting in a car at a checkpoint near the city on the Canal, a vital global trade route.