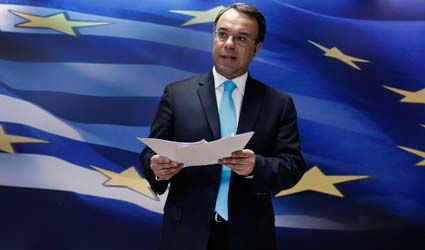 ATHENS (Reuters) – Greece will emerge from six years of recession next year, its draft 2014 budget projected on Monday, in one of the strongest signs yet that the country has left the worst of its crippling debt crisis behind.
The economy, which has shrunk about a quarter since its peak in 2007, will grow by 0.6 percent next year thanks to a rebound in investment and exports including tourism, the budget predicted. The economy is set to contract by 4 percent this year.
Athens is also targeting a primary budget surplus of 1.6 percent of national output next year and is on track to post a small surplus this year. Attaining a primary surplus – excluding debt servicing costs – is key to helping Athens secure debt relief from its international lenders.
"In the last three years Greece found itself in a painful recession with an unprecedented level of unemployment," Deputy Finance Minister Christos Staikouras said as he unveiled the 2014 budget. "Since this year the sacrifices have begun to yield fruit, giving the first signs of an exit from the crisis."
Excluded from financial markets since 2010, Greece has been kept afloat solely with 240 billion euros in aid from its EU and IMF partners. After nearly crashing out of the euro zone and dragging down the global economy along with it, Athens has returned to more stable financial footing over the past year, though it is still expected to require further debt relief.
Athens now hopes it can return to the bond markets in the second half of next year, Staikouras said.
The draft budget targets a general government deficit of 2.4 percent of gross domestic product next year. Public debt remains at mountainous levels – projected to reach 174.5 percent of GDP in 2014.