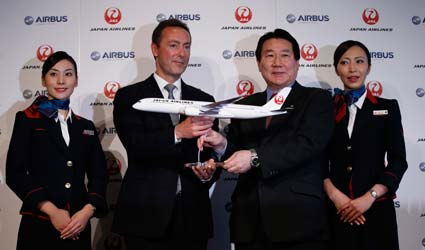 BARCELONA, Spain/TOKYO (Reuters) – Airbus announced its first jet order from Japan Airlines Co Ltd on Monday, breaking open the last big aviation market dominated by Boeing Co in a move that suggests the U.S. company may pay for the 787 Dreamliner's troubled debut.
The landmark deal for 31 wide-body A350 jets with a combined $9.5 billion (5.92 billion pounds) list price follows an intense battle between the planemakers as JAL and domestic rival ANA Holdings Inc seek dozens of new long-haul jets over the next decade.
The agreement, also a potential blow to a Japanese aerospace industry that builds large portions of Boeing's jets, includes options for another 25 of the A350s.
"This is a huge win for Airbus and a big loss for Boeing," said aerospace analyst Scott Hamilton, managing director of Seattle-based Leeham Co.
"Airbus has been trying to break the wide-body monopoly of Boeing for decades and likewise Boeing has been wanting to keep Airbus out of JAL and ANA."
Boeing has for decades seen off attempts by the European planemaker to secure an order with JAL, benefiting from links with Japanese suppliers and deep political ties between Tokyo and Washington to maintain a market share of more than 80 percent.
Delays to its 787 Dreamliner and its subsequent grounding after its batteries overheated have, however, tarnished its image and cast doubt on Boeing's ability to deliver aircraft on time, industry experts said. Both JAL and ANA are major Dreamliner buyers.
At the same time, bureaucratic and political influence over fleet purchases by JAL, which the government bailed out in 2010, has waned since it went public again a year ago and the Democratic Party government that rescued it lost power.
In a sign of how JAL's once cosy government ties have become strained, the carrier on Friday complained that it was unfairly treated over landing rights at Tokyo's Haneda airport after ANA received twice as many new slots.