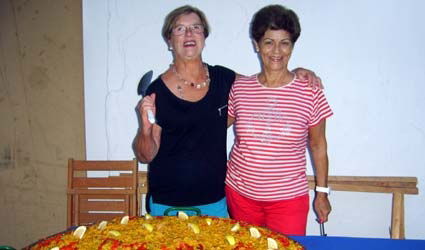 AROUND 150 people packed Plaza Manilva, Estepona, for a Noche Espanol, (Spanish night) held to raise funds for ADANA, the Estepona-based dog rescue charity.
Guests enjoyed sangria and a monster paella, prepared and served by Mari-Pepa and Conchi, two Spanish ladies who help in the charity's shop in Estepona.
A flamenco show was staged by Eva Bazan and her group of talented young dancers from Estepona.
The town's Mayor Jose Maria Garcia Urbano paid a visit accompanied by his Deputy Councillor Ana Velasco.  Both declared themselves impressed with the event and congratulated all who helped.
The Estepona Ayuntamiento is currently engaged in the process of signing an agreement with ADANA to become the Municipal dog home and has already carried out extensive works at the charity's kennels.
ADANA would like to thank the Estepona Alzheimer's Association for donating tables, the Estepona Plataforma for loan of sound equipment and EsteponaTown Hall for supplying the chairs and staging for the Flamenco Show.
For further information about ADANA, visit: adana.es.