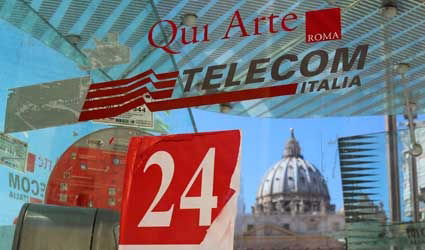 MILAN/ROME (Reuters) – Telecom Italia's new chief executive Marco Patuano will unveil a business plan outlining the future of its South American units and a possible corporate restructuring in Italy at a board meeting on November 7, trade union officials said.
Patuano told a meeting with unions on Friday the heavily indebted former phone monopoly had put on hold a plan to spin off its fixed-line network because the right regulatory conditions were not in place, they said in a joint statement.
Patuano told unions that any corporate restructuring of its domestic operations would be done only if it creates values for the company, according to the statement.
The unions said the reorganisation could lead to a breakup of the company, a move which they see as a prelude of possible job cuts, and reiterated their opposition to the network separation plan.
Telecom Italia, burdened by nearly 29 billion euros of net debt and a deep recession in Italy, said in a statement the company would respect terms of a 2013 agreement with the unions, and that it would continue to invest to revive its business.
Patuano was named CEO on Thursday after long-standing executive chairman Franco Bernabe resigned in a strategy clash with core shareholders, fuelling expectations of possible asset sales.
Bernabe resigned after his plans to raise funds for badly needed investment through a large share issue were rejected by controlling shareholders led by Spain's Telefonica.
Fistel-Cisl union leader Giorgio Serao said, after the meeting with Patuano at which he was present, a decision on the group's Brazilian unit Tim Participacoes and Telecom Argentina will be outlined under the new plan.