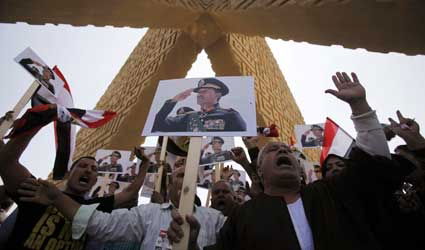 CAIRO (Reuters) – At least 28 people were killed and more than 90 wounded in clashes during protests in Egypt on Sunday, security sources and state media said, as the crisis since the army seized power three months ago showed no sign of abating.
Fighting began after supporters and opponents of deposed Egyptian President Mohamed Mursi of the Muslim Brotherhood took to the streets in several cities.
At Ibn Sina hospital in the Mohandiseen district of Cairo, a Reuters reporter saw eight bodies shrouded in blue and white sheets among pools of blood.
"The interior ministry and the army killed my son," screamed Sabah el-Sayed, mother of Rami Imam, 29, stroking his leg.
Abdelrahman al-Tantawi, a medic who brought Imam to the hospital, said he had seen police and army firing from a bridge at pro-Brotherhood demonstrators.
He said Imam had a bullet wound in his back. Reuters could not independently verify that account of events.
Most of the dead were in Cairo, security and medical sources said. Another security source said 13 were killed in the Ramses train station area.
Protesters had been heading towards Tahrir Square, the rallying point for the popular uprising that toppled autocrat Hosni Mubarak in 2011, security sources said.
The military often accuses the Brotherhood of inciting violence during protests, accusations it denies.
The state news agency reported that during clashes in the Nile Delta province of Qulubiya, authorities arrested 25 members of the Brotherhood who had 51 hand grenades.
The Brotherhood says it is opposed to the violent methods of other Islamist groups. Attacks by militants on police and soldiers in the Sinai Peninsula have increased sharply since Mursi was toppled.