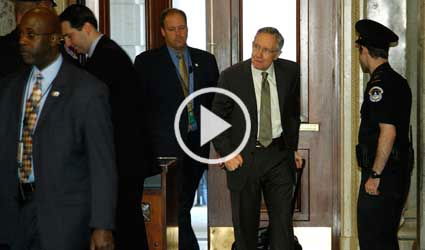 WASHINGTON (Reuters) – Washington entered the fifth day of a partial government shutdown on Saturday with no end in sight even as another, more serious conflict over raising the nation's borrowing authority started heating up.
The U.S. House of Representatives prepared for a Saturday session but with no expectations of progress on either the shutdown or a measure to raise the nation's $16.7 trillion debt ceiling. Congress must act by October 17 in order to avoid a government debt default.
Republican House Speaker John Boehner tried on Friday to squelch reports that he would ease the way to a debt ceiling increase, stressing that Republicans would continue to insist on budget cuts as a condition of raising the borrowing authority.
On the shutdown, Boehner said Republicans were holding firm in their demand that in exchange for passing a bill to fund and reopen the government, President Barack Obama and his Democrats must agree to delay implementation of Obama's health care law.
The launch date for Obamacare health insurance exchanges came and went on October 1, meaning Republicans are now in a more difficult political position of trying to stop something that has already begun.
Although essential government functions like national security and air traffic control continue, the economic and policy effects of the shutdown are amplified the longer hundreds of thousands of federal workers remain at home and unpaid.
Negotiations on tax and free trade treaties are on hold, enforcement of sanctions against Iran and Syria are being hindered, and a government tester of dangerous consumer products spends his days at home.
"Do not mistake this momentary episode in American politics as anything more than a moment of politics," U.S. Secretary of State John Kerry told reporters at an Asia-Pacific leaders conference in Bali, Indonesia, on Saturday.
"Nothing will diminish our commitment to Asia…we will continue to fulfil our responsibilities and our engagement around the world," said Kerry, who is standing in for Obama after the president cancel his Asian trip.
Credit: worldnews166 (YouTube)