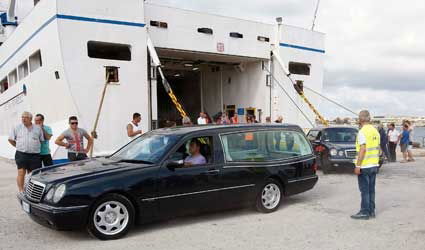 LAMPEDUSA, Italy (Reuters) – Choppy seas prevented divers on Friday from recovering more bodies of migrants who died in a shipwreck off Sicily that has killed an estimated 300, in one of the worst disasters of Europe's immigration crisis.
Rescue teams have so far recovered 111 bodies and expect to find more than 100 others in and around the wreck, submerged in 47 metres of water less than a kilometre (0.6 miles) from the shore of the southern island of Lampedusa.
After 155 people were pulled from the water alive on Thursday, strong winds and metre-high waves made it impossible for 40 divers to safely collect bodies. There was little hope of finding more survivors from the almost 500 passengers estimated to have been on board.
"Though the bad sea conditions persist, our guys are ready to go down if a window opens up that makes it safe for them," coastguard spokesman Filippo Marini told Reuters. The swell is forecast to rise on Saturday and slowly diminish from Sunday.
Though the tiny island takes in thousands of immigrants every year and there have been similar wrecks in the past, residents were shaken by the sheer size of the tragedy.