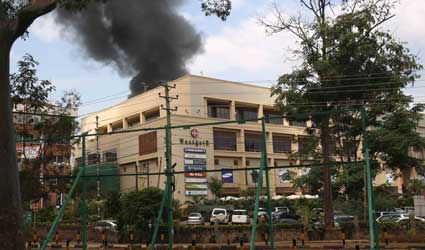 NAIROBI (Reuters) – Kenya's government said a Sudanese man trained by al Qaeda was among the leaders of a raid on a Nairobi shopping mall in which at least 67 people were killed, the worst attack in the country in 15 years.
Al Qaeda-linked group al Shabaab has claimed responsibility for the assault two weeks ago on the Westgate centre, saying it was an act of revenge for Kenya's military campaign in Somalia, but the identities of the gunmen have remained unclear.
A Kenyan military spokesman on Saturday named four of the attackers, saying they also included a Kenyan Arab and a Somali.
Closed-circuit television footage from the Westgate mall was broadcast on Kenyan television channels that appeared to show four men with guns walking around the mall's supermarket and a storage room.
Major Emmanuel Chirchir, the spokesman for the Kenya Defence Forces (KDF), named the four as Abu Baara al-Sudani, Omar Nabhan, Khattab al-Kene and Umayr.
"I confirm these were the terrorists. They all died in the raid," Chirchir told Reuters, citing the findings of the KDF and national intelligence bodies.
He said Al-Sudani, which means "The Sudanese", was the leader of the group shown in the CCTV footage and was trained by al Qaeda.
"He is an experienced fighter and sharpshooter," he said.
Nabhan, a Kenyan of Arab origin, was born in the coastal city of Mombasa and travelled to Somalia with his uncle at the age of 16, said Chirchir.
Al-Kene was thought to be from the Somali capital Mogadishu, and was linked to country's al Shabaab militants, he said.
Umayr's full name, nationality and background were "not yet identified", Chirchir added.
Kenya has said as many as 15 militants took part in the raid and the authorities were holding nine of them. The government said five of the attackers were killed, but survivors say some may have escaped.
Al Shabaab militants said on Saturday that Western forces had raided a coastal town under cover of darkness and killed one of their fighters. It was not clear whether the assault was related to the attack on the Kenyan mall.
Chirchir said he was trying to get details of the attack in Barawe, about 180 km (110 miles) south of Mogadishu.