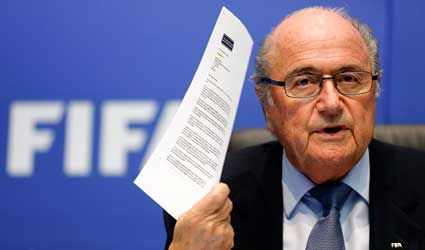 ZURICH (Reuters) – FIFA has launched a consultation process to decide whether to stage the 2022 World Cup in Qatar outside the traditional June-July slot and will not make a decision until next year, president Sepp Blatter said on Friday.
"The executive committee decided to launch a consultation process among main stakeholders for Qatar 2022 dates," Blatter said on Twitter. "No decision will be taken before 2014 WC (World Cup)".
Qatar was awarded the right to host the competition in December 2010 in a decision based on its plans to stage the event in June-July using air-conditioned stadiums to combat the fierce heat.
Despite Qatar's assurances that the plan is viable, there has been widespread concern over the health of the players and visiting fans in the searing conditions of the desert summer.
Blatter said in July that he would propose a move to a cooler time of year and that he expected the executive committee to agree with him.
European soccer's governing body UEFA agreed last month that the World Cup should be moved, with all 54 member associations backing the proposal.
However, there have been demands for greater consultation from other stakeholders, led by the powerful European Clubs Association (ECA) which has more than 200 members including the world's richest and most powerful clubs.
ECA president Karl-Heinz Rummenigge said in September that, with the competition still nine years away, there was no need to rush into a decision.
Clubs are worried about the financial impact of hosting the World Cup outside its traditional June-July slot, as it would force them to reschedule domestic leagues.
Rummenigge has suggested that April 2022 would be an alternative while January-February and November-December are also possibilities, although the first two months of the year will also see the Winter Olympics taking place.