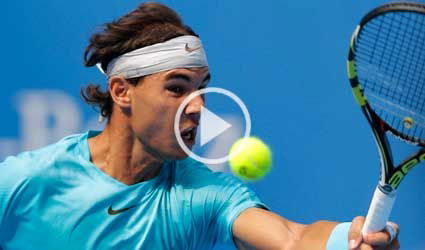 (Reuters) – Rafa Nadal is one victory away from returning to the top of the world rankings after surviving a huge scare to beat Italian Fabio Fognini in the quarter-finals of the China Open on Friday.
The Spaniard will regain top spot if he reaches the final regardless of what current No.1 Novak Djokovic does in Beijing.
Nadal, who took his grand slam singles haul to 13 this year by winning the French and U.S. Opens, has not been ranked one in the world since July 2011.
Fognini, ranked 19, nearly put a spanner in the works though before Nadal earned a 2-6 6-4 6-1 victory to reach the semis.
"It's something that doesn't create more pressure for me," Nadal, who will meet either Tomas Berdych or John Isner in the last four, said. "It's something that already happened in the past. If that happens again, it will be good, it will be special for me, but we'll see.
"I am going to have a very tough opponent in front of me. In the end, it's another match. True, it's a little bit more special for the circumstances, but nothing else.
"It is not the moment to think about No. 1… it is the moment to think about Berdych or Isner."
Fognini was a point away from taking a 5-1 lead in the second set and an upset was well on the cards with Nadal seemingly troubled by a left-knee injury he suffered in the opening minutes of the match.
However, he found his form in the nick of time and the Italian managed just one more game.
The stylish Fognini dished out some brilliant groundstrokes in the opening set to break Nadal three times.
He continued his domination in the second set as he built a 4-1 lead but faltered with victory in sight.
Nadal blazed back to win the next five games and the 27-year-old strolled through the decider to stay on course for an 11th title of an incredible season.
"It's true that his level of tennis for a long time in the match was very, very high," Nadal added.
"When you are playing against an opponent playing well, the thing that you have to do is try to push him to the limit and try to make him play very well for a very, very long time.
"That's something that I was not doing for the first set and a half. Then the situation changed a little bit."
Defending champion Djokovic plays American Sam Querrey later on Friday.