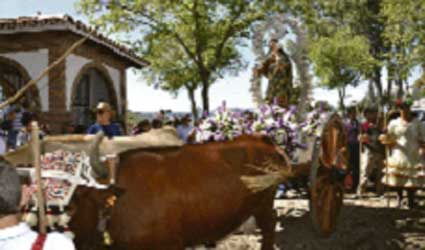 LOCALS and tourists alike are getting ready for the Fuengirola Feria.
Our front page photo shows the traditional curtainraiser 'romeria' or pilgrimage which precedes the annual fair.
Local residents accompanied the figure of the Virgin out to the El Esparragal area.
The Fuengirola Fair Feria del Rosario 2013 in honour of the Virgin el Rosario takes place from this Sunday to Saturday, October 12. It will be opened with a big fireworks display on Sunday.
Over the last 20 or so years the 'feria' has increased in size and is now one of the most important fairs on the coast.
It attracts thousands to the town from home and abroad.
The fairground is lit up and the entrance area is dedicated to the children's fair with exciting rides for the more intrepid fairgoer.
Deeper into the fairground are brightly decorated 'casetas' with their own music and special dance events going on throughout the day and night.
Locals and even foreigners don traditional Spanish dress, the women in the typical flamenco costumes and the men with the short jackets, high-waisted trousers, boots and hats.
For more information call the Fuengirola Casa de la Cultura on 952 46 07 50