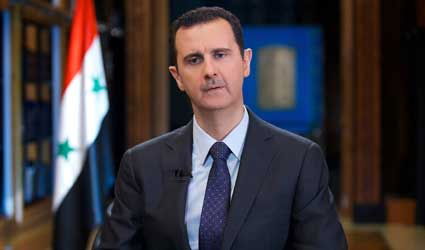 ISTANBUL (Reuters) – Syrian President Bashar al-Assad has told Turkey it will pay a heavy price for backing rebels fighting to oust him, accusing it of harbouring "terrorists" along its border who would soon turn against their hosts.
In an interview with Turkey's Halk TV due to be broadcast later on Friday, Assad called Turkish Prime Minister Tayyip Erdogan "bigoted" and said Turkey was allowing terrorists to cross into Syria to attack the army and Syrian civilians.
"It is not possible to put terrorism in your pocket and use it as a card because it is like a scorpion which won't hesitate to sting you at the first opportunity," Assad said, according to a transcript published on Halk TV's website.
"In the near future, these terrorists will have an impact on Turkey and Turkey will pay a heavy price for it."
Turkey, which shares a 900-km (560-mile) border with Syria and has NATO's second largest deployable military force, is one of Assad's fiercest critics and a staunch supporter of the opposition, although it denies arming the rebels.
It shelters a quarter of the 2 million people who have fled Syria and has often seen the conflict spill across its frontier, responding in kind when mortars and shells fired from Syria have hit its soil.
Along with Western allies opposed to Assad, it has grown alarmed by divisions among the rebels and the deepening influence of radical Islamists in Syria.
The al Qaeda-affiliated Islamic State of Iraq and the Levant seized Azaz, about 5 km (3 miles) from the frontier with Turkey, last month and has repeatedly clashed with the local Northern Storm brigade since then.