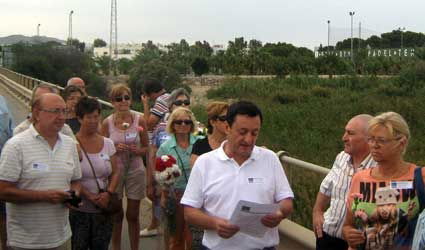 By Stephen Lear
VERA residents joined together to pay their respects to those who died in last year's devastating floods
One year on from the 'gota fria' that caused such devastation in the province of Almeria on September 28, 2012, a small group of citizens from Vera gathered at the bridge that joins Puerto Rey and Pueblo Laguna  to lay floral tributes to the people who lost their lives in the floods.
Veraplayazul president Miguel  Jurado Hurtado presided over a simple ceremony in one of the worst affected areas and paid tribute to neighbour Diana Dudas, 52,  who lost her life on that tragic day.
The neighbourhood association Veraplayazul has sent through a registered letter to her Majesty, Queen Sofia with a request for help, asking for protection and mediation in order to get the government to sit down and address the problem of the floods. There are still hundreds of unresolved petitions asking for aid.
Queen Sofia visited the area last year a few days after the storm and witnessed the devastation for herself. Ten people were killed in the floods across Almeria and into Murcia.
Veraplayazul laments the fact that on the first anniversary of the disaster, there still continues to be a  threat from the rain with the lack of cleaning, dredging and channelling of the river Antas.
One lady present at the ceremony was Mary McMurray who has had a property in Las Buganvillas since 2001.
Mary had come along to pay respects to her friend Diana. Fighting back the tears Mary recalled "A lovely lady who is sadly missed by the community,a very gentle person who went far too young."
In a poignant moment, like teardrops from heaven a few drops of rain fell from the sky  just at the point when the small crowd threw flowers from the bridge.