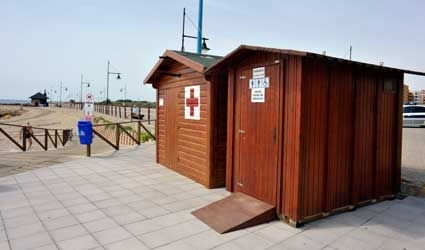 MORE than 24,000 elderly people across Alicante province have been treated and aided by Red Cross workers during the first half of the year.
Already this figure almost reaches the 28,600 people assisted by the 2,200 volunteers in Alicante last year. Red Cross projects include home telecare services, home help and promotion of healthy habits through training activities.
Meanwhile the 44 Red Cross aid workers patrolling Torrevieja's beaches this summer have supported the 75 qualified lifeguards in dealing with 6,000 incidents. They performed 215 sea-rescue missions; of these, 187 were rescues by lifeguards for swimmers who got in to difficulties and 28 of people swept out to sea on a floating object, such a lilo. In 66 cases, an emergency ambulance was needed.
Red Cross workers also helped 558 people to use the three disabled bathing platforms situated on the beaches of Los Naufragos, Los Locos and on the Paseo de Juan Aparicio.