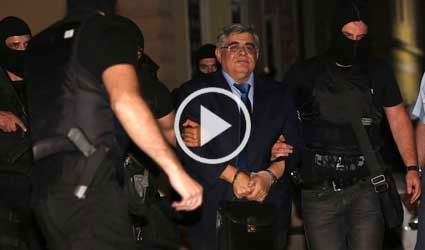 ATHENS (Reuters) – The leader of Greece's far-right Golden Dawn party was sent to jail on Thursday pending trial on criminal charges, the first time an elected party chief has been put behind bars since a military coup nearly five decades ago.
The imprisonment of Nikolaos Mihaloliakos, who has watched support for his party wane after a supporter fatally stabbed a popular rapper, is a reprieve for Prime Minister Antonis Samaras's government that has vowed to wipe out the party, calling it a "gang of neo-Nazis".
Stunned by a court decision to free three other senior Golden Dawn lawmakers on Wednesday, the government hailed Thursday's verdict as "the most dynamic confrontation of a neo-Nazi criminal gang in European, and possibly, world history".
The government, which is hoping the mass arrests of Golden Dawn's top brass will help it subdue a party seemingly untouched by accusations of violence and intimidation, praised the justice system for "doing its job".
Mihaloliakos, grey-haired and bespectacled, shouted: "Long live Greece! Victory!" as he was led away from court in handcuffs in the early hours of Thursday. He denied charges of founding and belonging to a criminal organisation during a six-hour plea session before a judge.
His wife and daughter, joined by Golden Dawn lawmakers, stood outside the court in the rain. "You are a diamond – don't buckle," his wife Eleni Zaroulia, a fellow lawmaker, told him.
Flag-waving supporters yelled a popular party slogan: "Blood! Honour! Golden Dawn!".
Mihaloliakos, who was arrested on Saturday alongside other party members, will be transferred to a high security prison later on Thursday.
His deputy, Christos Pappas, who turned himself in on Sunday, arrived at the heavily guarded court to respond to charges. Another lawmaker, Yannis Lagos, was sent to jail on Wednesday pending trial.