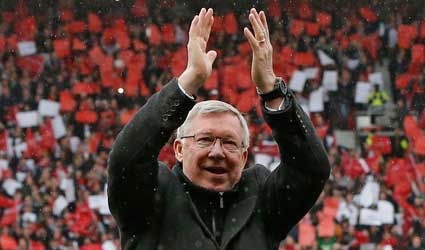 LONDON (Reuters) – David Moyes will steer Manchester United out of their current slump, former manager Alex Ferguson believes, although should he fail there will be no return for Britain's most successful manager.
Ferguson's successor has endured a rocky opening to his reign at Old Trafford with the club suffering its worst start in the league since 1989 when Ferguson himself was under pressure to start stocking the trophy cabinet.
A 1-1 draw at Shakhtar Donetsk in the Champions League on Wednesday was an encouraging sign for Moyes after back-to-back defeats in the Premier League, and Ferguson said his faith in the former Everton manager will be vindicated.
"Moyes will do a good job for United, I'm confident of that," Ferguson said in a U.S. television interview picked up by British papers on Thursday.
"He was my choice to succeed me and I'm still absolutely behind him 100 percent.
"The club will also give their full support and he will be just fine. United are in good hands."
Ferguson won 13 Premier League titles and two Champions Leagues in his 27 years at the club but, at 71, the Scot said there was no chance he could be tempted back from retirement.
"I am certainly not interested in managing again and getting all worked up over results," he said.
"I made my decision, it was perfect timing. I went out a winner and I'm looking forward to new challenges in my life.
"Once I made my mind up, I was never going to think again. There is no way back.
"I noticed a job came up recently and the odds were quoted at 80-1 Ferguson. Good odds but you would be throwing your money down the drain."
SOLID PLATFORM
Whereas Ferguson had to build the foundations from scratch, having taken over when the club was in the doldrums, he believes Moyes has a solid platform to work from.
"For me, the most important thing was building the club from the youth system upwards and having a solid foundation," Ferguson, who brought through the likes of David Beckham, Paul Scholes and Ryan Giggs, said.
"That's what the club still has today."
Ferguson believes Wayne Rooney, who missed Wednesday's game because of an injury, has rediscovered his hunger after a summer spent courting a move to Chelsea.
"He came in the day after we won the league and it's common knowledge he asked away," Ferguson, who was reported to have had a falling out with the England striker last season, said.
"It came down to the fact that I'm not his public relations officer. I manage the team and, from what I saw on the pitch at times last season, he wasn't doing particularly well."
"But you see him today he has got his energy and purpose back. Wayne is buzzing again," Ferguson added.
"Whatever problems we had last season – and I don't think anything happened that I got upset about – he has got his focus and work ethic back. That will be good for the team."
"I think I have helped to bring that back again and make him aware that he is a great player with high expectations."