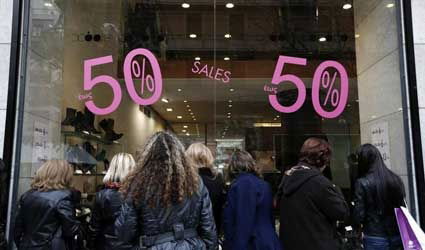 LONDON (Reuters) – A return to growth last month for French and Italian companies buttressed a tentative economic recovery in Europe, where Britain and Germany continued to lead the way, surveys showed on Thursday.
Order books in euro zone businesses filled at a faster rate and job cuts slowed to a trickle in September, according to purchasing managers indexes (PMIs) that survey thousands of companies worldwide.
In Italy, the strength of the services PMI surpassed all expectations from economists polled by Reuters, suggesting the euro zone's third-biggest economy was on course to pull out of its longest recession in six decades.
British businesses ranging from huge financial corporations to hairdressers again reported solid growth, rounding off the strongest quarter in more than 16 years.
Overall, the surveys painted a slightly brighter picture than the "weak, fragile and uneven" recovery alluded to on Wednesday by European Central Bank president Mario Draghi.
On balance, they also boded well for the global economy.
Indexes from China showed growth picking up there, even if data due later from the U.S. are expected to show a slight easing in the expansion for non-manufacturing companies, which have consistently outpaced their European peers.
The main disappointment in Europe was Spain, where a rise in business activity during August – the first in more than two years – proved short-lived as firms slipped back into decline.
Still, the data pointed to a broadening recovery across the euro zone, said Nick Matthews, senior European economist at Nomura, though that had yet to be borne out in official data.
"The hard data so far for the third quarter has perhaps a bit more on the disappointing side – in particular industrial production …was very weak in July," said Matthews.
"We expect this to bounce back, but this suggests we could see a slightly slower pace of growth in the third quarter relative to the second quarter."
PMI compiler Markit said its surveys suggested the euro zone economy grew around 0.2 percent from July through September, a touch below the 0.3 percent registered in the second quarter.
Nomura's Matthews said they suggested a slightly stronger rate of growth for the final months of the year.
STILL NOT ON SOLID GROUND
Markit's Eurozone Services PMI rose to 52.2 in September from August's 50.7, little changed from a preliminary reading of 52.1. Readings above 50 signify growth.
Businesses in No.1 economy Germany reported rising new orders and staffing levels, while France's private sector grew for the first time in a year and a half.
The upbeat mood was further bolstered by news that euro zone retail sales jumped 0.7 percent in August, month-on-month, hitting the top end of forecasts.
Draghi said on Wednesday the euro zone economy still faced downside risks.
Chris Williamson, Markit's chief economist, said the surveys pointed to slightly stronger growth towards the end of this year, even if the region was not out of the woods.
"The political instability that has reared up in Italy is a reminder that there remains plenty of scope for recoveries to be derailed," said Williamson.
Italian Prime Minister Enrico Letta won a confidence vote in parliament on Wednesday after Silvio Berlusconi, facing revolt in his own party, backtracked on threats to bring down the government.
The Italian services PMI topped the 50 growth threshold last month for the first time since May 2011, which could signal a timid recovery towards the end of the year.
British business again showed the fastest pace of growth among Europe's major economies last month.
Although the Markit/CIPS UK Services PMI eased to 60.3 from August's near seven-year high of 60.5, it still showed strong momentum in British business, helped by a recovery in the housing market.
"Such strong confidence also suggests that the UK economy has enough momentum to end the year strongly," said Christian Schulz, senior economist at Berenberg Bank.
Financial markets were little changed on the data, taking their direction instead from the U.S. budget crisis that sent the dollar to an eight-month low Thursday as the government shutdown there dragged on.