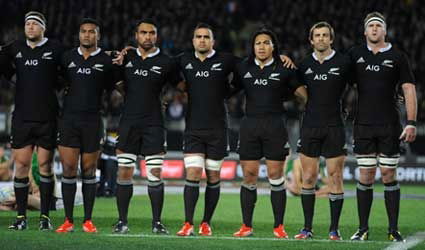 LONDON (Reuters) – England will play New Zealand four times in a row next year after the All Blacks were named among their opponents in their November 2014 internationals, their final southern hemisphere tests before they host the 2015 rugby World Cup.
England face Australia, Argentina and New Zealand this November then travel to New Zealand for a three-test series next June.
The All Blacks will then be their first autumn opponents on November 8 2014, followed by tests against South Africa (15th), Samoa (22nd) and Australia (29th).
After the following year's Six Nations, the rugby World Cup will be held in England and Wales, from September 2015, with Stuart Lancaster's side facing tough Twickenham pool matches against Australia and Wales.
"To be able to take on these teams in successive weeks is ideal preparation for the World Cup and will tell us a lot about where we are one year out," Lancaster said of the 2014 November series in a statement.
"All four are tough opponents and we are looking forward to the challenge."
England's record 38-21 demolition of the All Blacks at Twickenham last December ended a run of nine defeats at the hands of the world champions.
Their last previous victory was the famous "13-man win" at Wellington in 2003, a success that gave Clive Woodward's squad real belief that they could finally beat the best of the southern hemisphere, a belief that was vindicated when they won the World Cup in Sydney four months later.