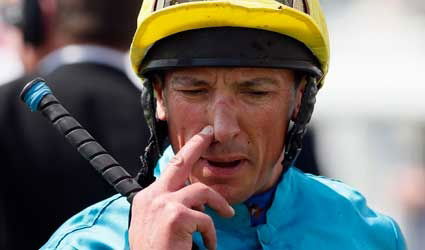 LONDON (Reuters) – Jockey Frankie Dettori will miss the rest of the season after breaking his ankle, his spokesman said on Wednesday.
Dettori, who had been due to ride in the Prix de l'Arc de Triomphe on Sunday, was unseated from his horse Eland Ally on the way to the start of a race in Nottingham.
"Sunday is out – as is the season," Dettori's spokesman Peter Burrell was quoted as saying by the BBC.
One of the biggest names in the sport, British-based Italian Dettori ended a six-month ban for doping in May.