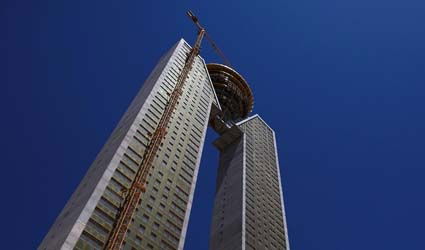 A SAUDI and a Chinese showdown is brewing over Benidorm's InTempo building.
The European Union's tallest residential tower block is practically finished but deep in debt, with 70 cent of its 269 apartments still unsold.
A €93 million loan to developers Olga Urbana was acquired by Spain's "bad bank" Sareb.  Now the Saudi Arabian group, Al Dhowayan, is reportedly willing to take on the debt and the building for €130 million.
 So far, so good, but Olga Urbana administrator Isidro Bononat has signed an option-to-buy contract with a Hong Kong firm, White Pearl Limited.  This stymies any move to sell to the Saudis by the president of Olga Urbana, Jose Ignacio de la Serna.
The Saudi group has allegedly visited the Sareb offices to negotiate the sale, sources claimed.  Only Sareb knows whether or not this is correct and Sareb isn't saying.
Meanwhile, the building at the heart of the conflict – all 55 storeys of it – is a serious contender for the 2014 FIB "Outstanding Concrete Structure" award.  The winner will be announced in Bombay next February.