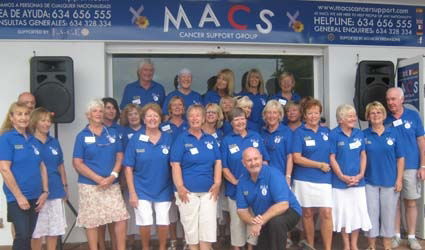 THE Mojacar Area Cancer Support Group (MACS) which has a shop in Turre and another in Albox, opened the doors to their third shop on Saturday morning.
A large crowd attended the opening of the new shop in Mojacar and greeted the opening speeches with great warmth and applause. The new shop and centre was opened by Elaine Brown,the founder and President of MACS, accompanied by Father Francisco Gabriel Gonzalez Parron the priest at the Torrecardenas Hospital in Almeria City and Alejandro Guerrero Salvador  the British Honorary Consul for Almeria.
The new shop and centre is fully equipped with the aim of making people's lives a little more comfortable.
Apart from the main shop floor area, there is a general office, an equipment area with bed and disabled toilet facilities, a relaxation room for treatments such as psychotherapy with space for a little peace and quiet with relaxing chairs.
There is also a spacious meeting room, ideal for fund raising meetings, arranging social events and an ideal space for patients, survivors and carers to meet up.  Meetings take place on the first Wednesday of every month.
MACS provides a free service for all cancer sufferers with equipment and items such as wigs and bandanas, available. Non cancer sufferers are also welcome to use the equipment but are asked for a donation.
MACS rely on the goodwill of the community and an army of volunteers that give up their free time to help, and continues to expand with the long term aim of  providing a hospice in the area.All sponsors have a plaque placed in the store.
Tickets are available for the next main social event, a Square Dance at the Bar International in Albox on Saturday October 12
The next meeting of the Albox branch of MACS takes place at Cafe Mañana next door to the shop on Friday October 11 at 10.30 am.
MACS also provide a helpline number 634 656 555 which is manned by volunteers 24/7 and a general enquiries number 634 328 334 as well as the website www.macscancersupport.com and facebook page.The new shop in Mojacar is situated between the Parador Hotel and El Arbol supermarket across from the beach.