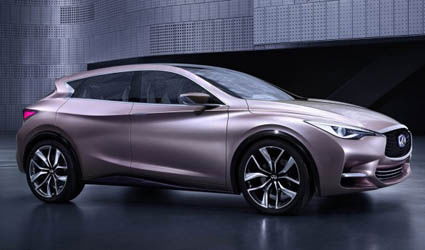 JAPANESE manufacturer Infiniti revealed the next step in its strategy to expand into new segments with the debut of the Q30 Concept at the Frankfurt Motor Show.
The sleek Q30 Concept is the design vision for a compact Infiniti vehicle with a contemporary, individualised character for a new generation of premium customers.
 "We are becoming the younger, trendsetting brand, more relevant and more exciting," said Johan de Nysschen, President of Infiniti Motor Company, Ltd.
A unique blend of features reminiscing of a coupe, a hatch and a crossover, the Q30 Concept is designed to appeal to younger customers.
Designers have explored bolder sculpting and enhanced playfulness, reflecting Infiniti's alternative to traditional premium automobile brands, the manufacturer claims.
Infiniti Q30 Concept is the design precursor for Infiniti's future compact premium entry to be produced in Sunderland, United Kingdom, starting in 2015.