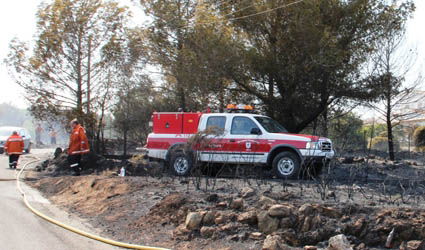 AROUND 100 of Javea's 465 fire hydrants do not work.
Members of Proteccion Civil have inspected every one of the points where water should be available in the event of fire.
The volunteers have used this information to compile a map giving the location of each hydrant and details of its type and water pressure. 
The map has not only been passed on to Javea town hall but also made available to all branches of the emergency services.
Javea covers an area of 68 square kilometres and the map was a task that required "years, not months," according to Javea's Proteccion Civil coordinator Juan Pastor.
Proteccion Civil has done a grand job by setting an example that should be followed nationwide, said the area's fire chief, Jose Melenchon.
It is also essential to ensure that hydrants are well-distributed, without too many in some area and too few in others, he added.  
The town hall intends to do its best to install more where necessary, said Public Safety councillor Juan Ortola, and will repair those that are out of order.