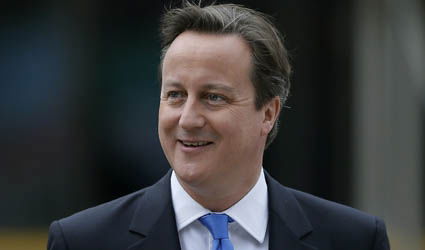 MANCHESTER, England (Reuters) – British Prime Minister David Cameron on Wednesday will cast a national election in 2015 as a choice between his "pro-business" ruling Conservative party and what he calls its anti-business socialist rivals.
In a speech to his party's annual conference in the northern English city of Manchester, Cameron will place Britain's economic recovery at the heart of his bid for re-election.
He will champion private enterprise as the way to improve living standards and accuse the opposition Labour party of planning to interfere in free markets and subvert capitalism.
Pitching the Conservatives as the party of aspiration and tax cuts, Cameron will seek to counter Labour's charge that he has stoked a recovery for the wealthy while failing ordinary voters who are grappling with prices rising faster than wages.
"Profit, wealth creation, tax cuts, enterprise: these are not dirty, elitist words – they're not the problem, they really are the solution because it's not government that creates jobs, it's businesses," Cameron will say.
Extracts of the speech were made available in advance.
After cutting the biggest budget deficit since World War Two by a third, Cameron is trying to convince voters that despite three years of economic stagnation, the Conservatives are the only party that can be trusted with the $2.5 trillion economy.
Signs of a recovery had helped Cameron narrow Labour's lead in opinion polls, though Labour drew ahead again after promising to take on vested interests, tax bankers more, and freeze energy bills.
Cameron proposes mortgage guarantees to help those struggling to raise a deposit to buy a home. He cautions that there can be no quick fixes and accuses Labour leader Ed Miliband of pursuing proposals for populist state intervention.
"There is no shortcut to a land of opportunity. No quick fix. No easy way to do it," Cameron will say.