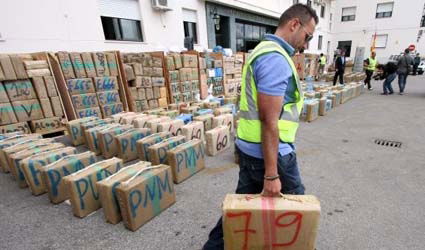 CUSTOMS officers have uncovered 18 tonnes of hashish in the largest drugs haul in the history of Almeria.
Customs Enforcement agents  who searched the interior of the merchant ship Moon Light found the drugs on Saturday.
The  seven members of the crew are of Syrian origin and have all been arrested. The bales of hashish were loaded on the Atlantic coast of Morocco, although the final destination is unknown. Custom officers followed the merchant ship by air after it crossed the Gibraltar Strait.
The drugs were on the main deck covered by a dark plastic tarpaulin. The ship was sailing about 25 miles off the coast when it was approached by Customs Surveillance in a spectacular operation.
The investigation remains open and is working on two lines, namely, the identification of the owner and the final destination of the drugs, and are working on the theory  that the ship would function as a mother ship for smaller boats and  fishing boats.
The bales were unloaded by crane from the deck and loaded onto two trucks in  the Port of Almeria.