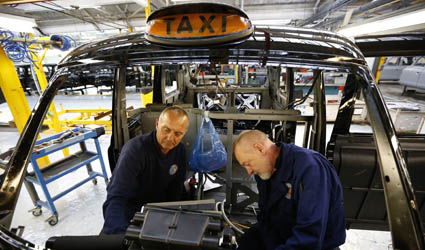 LONDON (Reuters) – Growth in Britain's manufacturing sector eased slightly in September from a two-year high the month before, due to less robust export orders, a survey showed on Tuesday.
The Markit/CIPS Purchasing Managers' Index slipped to 56.7 from August's two-and-a-half year high of 57.1, a slightly weaker reading than the rise to 57.3 economists had predicted in a Reuters poll.
But employment and prices rose at their fastest pace in two years, suggesting limited spare capacity in the sector at a time when the Bank of England is forecasting several years of relatively low-inflation growth for the economy as a whole.
The closely watched PMI statistics have repeatedly beaten economists' forecasts in recent months, contributing to a sense that Britain's recovery is gathering steam.
Tuesday's data also pointed to solid growth in manufacturing, which makes up 10 percent of Britain's economy, and showed that factories are hiring at the fastest rate since May 2011, with the employment sub-index rising to 54.0 from 51.9.
"These numbers are encouraging in respect to the rebalancing of the economy, with goods production likely to provide a major stimulus to economic growth in the third quarter," said Rob Dobson, senior economist at survey compilers Markit.
"We would expect to see manufacturing output expanding by at least 1 percent in the three months to September and possibly by as much as 1.5 percent," he added.
Manufacturing grew 0.9 percent in the three months to June, helping the economy as a whole grow 0.7 percent. Many economists expect a faster pace of economic growth in the third quarter.
The outlook for factories, however, is slightly less strong, with export orders growing at their slowest pace since May.
"With the exchange rate still around 20 percent weaker than before the financial crisis, we would expect to be seeing far stronger export gains than companies are currently reporting, especially with the euro zone showing signs of finally pulling out of recession," Dobson said.
There is also little sign of an improvement in productivity, which the Bank of England is counting on to hold off future interest rate rises. Alongside the rise in employment, prices charged also rose at their fastest pace in two years.
Markit said this reflected firms increasing margins as well as passing on higher input costs.
"The outlook for output and employment remains on the upside heading towards year-end," Dobson said. "This … will raise further questions in the City with regards to (whether) the Bank of England's forward guidance on interest rates remains appropriate."
The central bank has committed to keeping rates on hold at least until unemployment falls to 7 percent from its current 7.7 percent, which it forecasts will take three years, much longer than most private-sector economists think likely.
– Detailed PMI data are only available under licence from Markit and customers need to apply to Markit for a licence.
To subscribe to the full data, click on the link below: http://www/markit.com/information/register/reuters-pmi-subscriptions
For further information, please phone Markit on +44 20 7260 2454 or email [email protected]