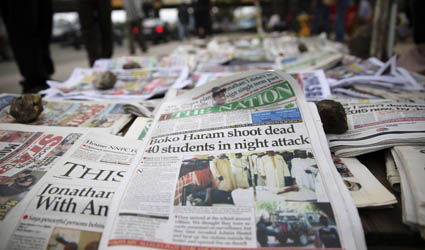 LAGOS (Reuters) – Nigerian President Goodluck Jonathan on Tuesday promised a national dialogue to heal what he said was an ethnically and religiously divided nation, and urged his compatriots to unite against extremism to avoid the fate of Syria.
Jonathan struck a sombre tone in a televised speech to mark Nigeria's 53rd year of independence from Britain.
"These may not be the best of times … Our people are divided in many ways – ethnically, religiously, politically and materially. I cannot hide from this reality," he said.
"We have a duty as Nigerians, whatever may be our differences, to always put Nigeria first."
His speech followed an attack on a college by suspected Boko Haram militants, who want to turn the northern half of Nigeria into an Islamic state, that killed 41 students. Many were shot dead as they slept in dormitories.
"This act of barbarism is a demonstration of the extent to which evil forces will go to destabilise our nation. But I assure you, they will not succeed," Jonathan said.
Nigeria's nearly 170 million people and 250 ethnic groups, split roughly evenly between Islam, which dominates in the north, and Christianity, prevalent in the south, mostly live side by side in peace. But the country suffers bouts of bloodshed over land where the two religions meet in the middle.
The oil producing Niger Delta is a haven for criminal gangs who steal oil and kidnap, while the Boko Haram insurgency has killed thousands and destabilised swathes of the north.
"Reflect on the fact that Syria … once a peaceful, thriving, multicultural nation … has today become a theatre of human misery of unimaginable proportions as a result of the activities of extremist forces," Jonathan said.
The United Nations says more than 100,000 people have been killed in Syria's civil war and millions displaced.
Nigeria suffered its own civil war in the late 1960s.
Jonathan announced the formation of a committee to host a national dialogue for Nigerians to try to come together to resolve their differences.
Boko Haram and spin-off Islamist groups like the al Qaeda-linked Ansaru have become the biggest security threat in Africa's second-largest economy and top oil exporter.
Jonathan declared a state of emergency in some northern states in May and ordered in extra troops to combat Boko Haram. The operation dislodged the militants from their bases but scattered them into more remote areas from where they have engaged in reprisal attacks that have killed several hundred people, mostly civilians.
The president faces challenges to his authority from a split within his own ruling party, largely along north-south lines, over his alleged intention to run again in the 2015 election. He declines to say whether he will or not.
Northerners point to an unwritten rule that the presidency rotates between north and south every two terms. Others are unhappy with his record on corruption and security.
Jonathan said: "Those who are elected to govern … must focus on improving the lives of our people, not selfish ambition."